Miki Diki came to visit us this weekend. We pretty much spent the weekend eating (and planned it that way ;). Friday, I picked her up at SJC where she happened to bump and chat with Giada. Then we went to eat Santa Ramen - ummmm coagulated PORK FAT broth. YUMMY!!! Later we baked green tea and vanilla muffackes, as well as brownies! THEN, later on in the evening we ate at EVVIA's. UMMMMMMM
Next day we went to go to Giada's book signing. The line was around the corner even though we arrived an hour early so we decided to go eat at Banana Leaf, then headed back to see Giada.
Sign in Banana Leaf bathroom
Boner, Weenie, and Diki
Giada teeth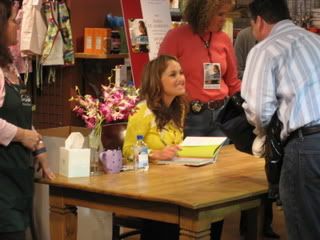 Giada head and boobs
Overall, it was cool to see Giada but they didn't give us a chance to really talk to her. We were shoved like cattle with ppl yelling "NO FLASH!!! NO FLASH!!! GO GO GO." Giada remembered Miki and gave her a high-five for coming. Her head isn't that big in real life. hahah! She's really cute and nice too (for the brief minute we saw her).
Afterwards, when we came home, this is what I found! Raf took all the cupcakes and brownies... and left this for us.
Brownie... bite?
Later that night the girls went out to SF and my old tired butt stayed home to sleep.
Look what I found on my couch the next morning