Wednesday, August 19, 2009
Sunday, August 02, 2009
is what Diana used to describe the "crêpes" we ordered from
Twist Café
in Campbell.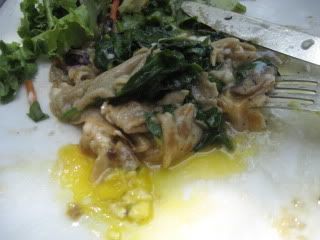 A big, sloppy, gooey, mushy mess. Yuck. And the sad thing is, it was super crowded. Yelp gives it an average of 4 stars by 119 people. (Not that Yelp is the best resource, but come on... 119 ppl)
WHAT HAS THIS WORLD COME TO ?!
Here is my attempt to replate the "Hemorrhage." Using the goo, the useless pieces of packaged and old mixed salad with no salad dressing, slice of orange (?), and a couple fried sweet potatoes (that weren't bad, really), out came "
Hemorrhage Deux
."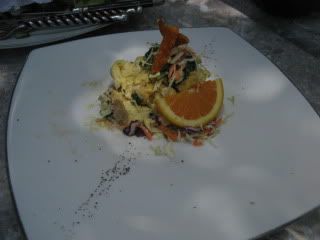 At least it was a beautiful day to ride the scooter and spend some time with Diana and Chino.
Cheers, girls!
P.S. You are better off making crêpes at home. Seriously. I think I paid something like $17 for this crêpe (it was spinach, egg, cheese, mushrooms) and a bad cappuccino. AND they DON'T USE SALT !
Posted by

Joan P.
at 9:43 PM
3 comments