I had the pleasure of experiencing my first restaurant review with a local food critic and writer in Philadelphia. The restaurant of choice was
Le Bec Fin
; open since 1970 by Chef and owner Georges Perrier. It has since been handed off to current executive Chef Nicholas Elmi, We decided on the five-course classic degustation menu for a mere $50.
Amuse bouche: Sous-vide fennel with orange gelee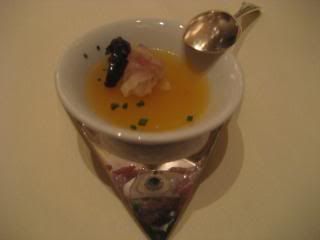 This was an interesting amuse bouche. The fennel was quite nice, and the orange gelee was flavored with star anise. A bit too much gelatin was added, in my opinion. Can't say it got my appetite going but it was okay.
Next up was the
Hudson Valley Foie Gras ravioli with black truffle and sauce Périgord
. Although I still haven't had foie ravioli as good as I've had it at Taillevent, this dish was still a winner. However, I have to question if they use wonton wrappers for the ravioli skin…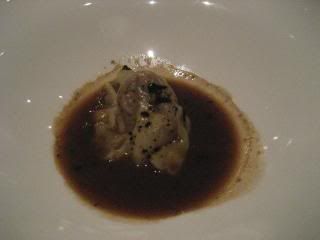 For the fish course, we were served
Sautéed Limande, American Paddle Fish Caviar, Orange Scented Petite Nage
. This dish was perfect. Really. It brought me back to France at first bite. The limande was perfectly cooked – very nicely crisped on the outside and perfectly moist and tender on the inside. It was well-seasoned and very flavorful. The lentilles were so deliciously clean and "al dente." Orange-scented petite nage accented the dish extremely well. Fabulous.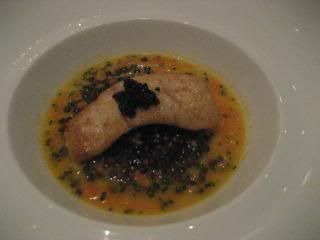 The
Pan Roasted Petite Filet Mignon, Pomme Purée, and Sauce Bordelaise
was generic and forgettable. I can appreciate meat and potatoes but this dish was a downgrade compared to the previous two dishes served. It was kind of like my meal at Plumed Horse in Saratoga, CA where we were served filet mignon, mashed potatoes, and asparagus. That to me is home-cooking. Nothing really exciting here. I'm extremely surprised this was on the menu. I expected a nice gibier/quail, pigeon, duck, etc. Really, meat and mashed potatoes, again? Don't get me wrong, I appreciate simplicity when done correctly.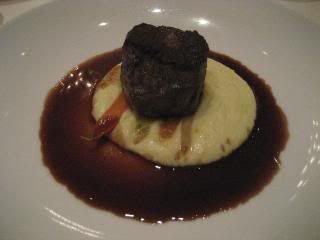 The food critic was extremely disappointed with this dish describing it as terrible, inedible, and baby food on a plate. Her rare meat was overcooked and mashed potatoes were cold as well. They decided to take her plate to rewarm the potatoes – they took my plate as well so I wouldn't be eating by myself. They returned both our plates a bit warmer (although the critics potatoes were still cold). I was quite surprised that they gave us the already eaten pieces of filets that were cooked even more since they rewarmed the plates. There was a thicker ring of gray meat that surrounded a pink center.
I remember when I was working in the South of France at a Michelin restaurant, if the dishes were brought out, and a customer had gotten up to go to the bathroom, the dishes were brought back to the kitchen and completely redone. New plate, new food (if needed), everything hot. Sauces redressed and everything (and these plates were dressed rather intricately). I am surprised that a restaurant of this caliber did not redress the plates with new food. The food critic decided that she could not eat her dish anymore. They asked if there was anything they could bring her; she requested a filet that was rare with simple roasted vegetables.
The last savory dish was the
Field Green Salad with White Balsamic vinaigre and Walnut Oil
. This was really undressed field greens on a plate. That's it. There was NOTHING. I love salad but this was an afterthought. Also, the leaves of my salad were oxidized and browning on all edges. I was quite surprised considering the first thing you do as a cook starting out in fine-dining is pick herbs and salad leaves. If there is anything oxidized you cut it off. I wasn't a big fan of the dressing either.
They switched out our salads for frisee – which was simply frisee on a plate. One of the servers felt it necessary to explain to us what frisee was which I found extremely odd.
We were offered an extra dish, a pre-dessert consisting of three dark chocolate spheres.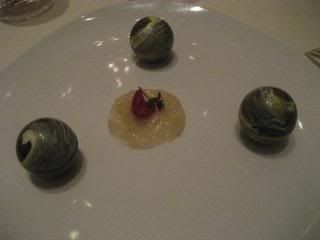 They poured a warm chocolate sauce on top which melted the top part of the sphere, but left the bottom intact which was filled with diced pear. Good in my opinion, but a bit too rich for me. One sphere would have sufficed.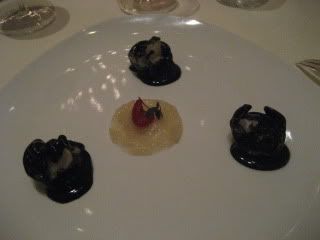 At Le Bec-Fin, they have a dessert cart which is full of premade cakes and tartes. I opted for the
dark chocolate cake with layers of milk chocolate
. Not a big fan of milk chocolate, but the dark chocolate cake they offered was flourless (for the most part, I don't particularly enjoy eating a big piece of dense fudge.) It came with a dollop of crème anglaise. This cake was rather light. It didn't blow me away but it was good, and I appreciated the fact that it was not too sweet. (It's a sin how much sugar they put in desserts here in America.)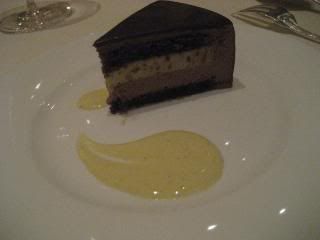 The food critic opted for a
frozen Grand-Marnier soufflé
. This was excellent. Really tasty with nice bits of orange zest throughout. It came with a
raspberry colis
which was very nice and fresh, and again not too sweet. In fact, not sweet at all, and very tangy. Nice balance with the frozen soufflé.
And finally the
mignardises
. The financier was way too sweet and tasted of almond extract. It also had no almond flour. The Madeleine was alright. The macaron was a bit hard and chewy and had an indistinguishable flavor (except for sugar). The dark chocolate rice krispie treat was nice.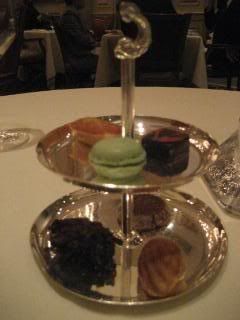 Overall, this meal was good and bad. The first two dishes were exceptional, but the rest of the meal was very forgettable. An extreme inconsistency for a tasting menu. They need to remove that meat dish off the menu. I mean look at what else they offer:
Milk Fed Veal Loin, Tête du Veau Crépinette, Chestnut Bread, Armagnac Macerated Prune

Pan Roasted Rib-Eye, Pommes Annette, Marrow Croquette, Sauce Bordelaise

Organic White Feathered Chicken, Lemon Barley Speätzle, Glazed Carrot, Coriander Jus

Rack of Colorado Lamb, Smoked Lamb Potato Terrine, Tomato Conserve, Zucchini Mint Puree

Chicory Roasted Loin of Venison, Vanilla Scented Cranberry Bean, Black Trumpet Mushroom, Asian Pear, Acorn Squash, Sauce Poiverade

Suprême de Squab, Rutabaga, Sorrel, Red Beet Reduction, Elderflower Jus
Much more interesting, n'est-ce pas ? I'm not much of a stickler on service because I know how tough their job is (I could never do it!); however, the service was attentive but slightly obstrusive since they kept interrupting our conversation (if not standing close to our table listening to our conversation). I would also like to add that the food critic opted for the wine pairings which were very very good.
Will I come back? Probably but I would pick from the A La Carte Menu, or perhaps the Fall Tasting Menu as the dishes are much more interesting.
Le Bec-Fin
1523 Walnut Street
Philadelphia, PA 19102
(215) 567-1000