Had to see what all the hype was about.
Ginormous blueberry pancakes, a lot of butter, turkey bacon, scrambled eggs, and fresh squeezed OJ.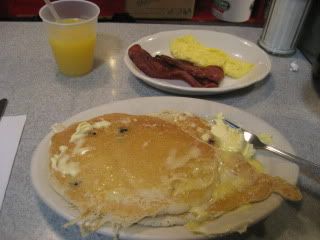 This meal was pretty damn good. Wonderful, light, fluffy pancakes. *Drool* And that turkey bacon was tasty as well. A+ for fresh squeezed OJ. I'd definitely come back here.
Dutch Eating Place
Reading Terminal
1136 Arch St
Philadelphia, PA 19107
(215) 922-0425