Brasil was definitely one of the most memorable trips. Unfortunately,
American Airlines
was part of those memories in an extremely negative way. I went through hell with
American Airlines
. I don't even know where to start. In fact, I've spent way too much time dealing with
American Airlines bullshit
, I'm just going to make bullet points on why
they suck
so bad.
*I would also like to note how patient I am in terms of dealing with rude and/or incompetent people. Two years in a kitchen (French kitchen, too!) will teach you to be patient and hold your tongue! You can imagine how much it will take to really get me angry. American Airlines was successful! Cheers to you, AA fuckers !

4 Nov 2009
- Arrived at SFO. Had problems printing out my ticket from the automated machine in front. Approached three AA representatives for help. They were too busy having a personal conversation to acknowledge my existence. Turned around irritated and walked up to the front desk. Another AA rep walked by. I said "excuse me, this machine is not printing out my ticket." He says to another rep "machines not working" and runs off. The other AA rep didn't even hear him. I am right in front of another dumb AA rep and say "EXCUSE ME, I have been here for 10 minutes. Can you please help me print out my ticket?" She reluctantly helps me print my ticket. Yah thank you for your kind service.
- Finally board the plane. Settled in. But wait, let's delay the plane an hour due to a technical difficulty. Okay fine. It happens, better on land right? Or maybe quality control can put in a little more effort.
- Arrive in Miami late. Miss connecting flight to Brasil. Fuck. Rude AA rep gives me a voucher for 1 hotel night, $10 for dinner, $5 for breakfast and $10 for lunch. At the hotel and/or airport.
- Next available flight is
9PM THE NEXT DAY
.
5 Nov 2009
- Check out time is noon. There is no way in hell that I am spending the next 8 hours at the airport. Pay an extra $70 for a room extension. Not going to eat the crappy food at the hotel. What is $10 going to get you at the airport? French fries? Spend more money on cab and lunch (cheap actually, $12 Cuban food).
- Despite spending more money out of my own pocket, I arrive to the airport 2 hours early. The only positive aspect of this situation so far is that one of the nice and competent managers, Daniel Gonzalez, at Miami airport kindly bumped me to business class as well as on a shorter flight. He made sure my luggage made it as well, and informed me to contact AA online for reimbursement.
6 Nov 2009
- Finally made it to Recife. Missed a day of vacation and a couple scheduled events. Luggage made it okay. Thanks Daniel Gonzalez. I think the AA BS is over.
18 Nov 2009
- Scheduled flight time: 11h35 AM. Boarded on time.
More technical difficulties.
Surprise surprise. Does AA even have a quality control department? Mechanics? Engineers? Anyone? Asked a flight attendant that I can't keep missing flights each time I fly American. He tells me honestly that we aren't flying out today. Despite this, we were all forced to stay on the plane until 2h30 PM.
- Deboard the plane. Told to get reticketed at the AA check-in counters.
CLUSTERFUCK of a line.
Wanted to make a phone call ASAP - literally spent an hour with all my luggage running back and forth between information, store selling phone cards, and the telephone booth to try and reach my "extended family" in Brasil.
- Wait in line for an hour at AA customer service. Another customer exchanged his ticket there with no problems. He got on a flight back to Dallas same day. When I reached the counter, the girl there said I have to wait in the
CLUSTERFUCK of a line
first to receive vouchers, then get reticketed.
WHAT THE FUCK?
- Wait in the clusterfuck of a line for 30 minutes. Reach the check-in counter. Receive voucher for hotel but NO TICKET. The girl there tells me that I have to
show up tomorrow to get a ticket
, and for the moment, they want everyone to be comfortable in a hotel.
WHAT THE FUCK?
I don't NEED A HOTEL, I NEED A PLANE TICKET BACK HOME.
- Wait in line for another 15 minutes at the AA customer service desk to try and get ticketed. The girl there tells me I missed the last flight to Sao Paolo, which then flies into SFO at the same time my original flight would have made it in. Then tells me to show up tomorrow to get a ticket, or to call AA. WHAT THE FUCK? Why didn't you just assign me the ticket before? Idiot.
- ALL the AA reps tell me they
don't have authorization
to give me a ticket and/or upgrade despite the fact that
I saw them print out tickets for customer before me
.
What a bunch of assholes.
Had I known I was waiting 3 hours for stupid hotel voucher, I would have taken off early and tried to enjoy the rest of the day in Recife.
- Thankfully, I had the address of Amir's place. With a simple thumbs up, got a taxi on his way to his place. The taxi driver didn't know where the street was. So with my broken Portuguese, I showed him that my left arm was the beach in Boa Viagem/praia and right arm was the street/rua. Parallel. HAH.
- I hadn't eaten since 8h30 this morning. It is now around 5h30PM. - Finally reach Amir's place. Knock on door. Surprised faces. WTF?
- Spent an hour on the phone trying to get ticketed and upgraded. I was cordial at this moment since I thought that being a bitch wouldn't persuade them to help me more. I also learned that
No AA representative AND/OR SUPERVISOR HAS THE AUTHORIZATION TO DO UPGRADES - not even in the UPGRADE division! WOW, that makes complete sense!
In other words, they are lying and don't give a shit about their customers.
- I have a flight to Philadelphia in the morning on the 20th. Because this flight was delayed, I won't have an extra day in California to take care of errands and things like that.
19 Nov 2009
- Arrive at the airport to a clusterfuck of people. How the hell are they going to ticket everyone and also have the plane depart on time?!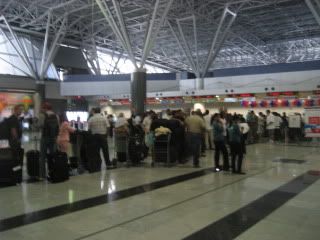 - Waited another
two hours
to sort out the ticketing shit. Spoke with a manager that accomadated a couple with a hotel voucher, free upgrade, and $800 flight voucher if they flew the next day. Manager then told me that I can't do that. Then we call him out and ask why he did that for the other customers. He gives in and says he will try to accomadate me if I don't make the flight.
- More waiting around. I try to make my flight anyway. They give me a ticket, and I rush to security. At this time, I have 15 minutes to make my flight.
- I can't get through security because
dumbass AA
forgot to put a scanned code on my ticket. Security tries calling AA but their dumbasses didn't respond. I
SPRINTED
to the ticketing counter to get that sticker.
- Now I have
8 minutes
to make my flight.
- I get through security. The
flight is delayed an hour.
I'm going to
miss my connecting flight to SFO, and be stuck in Miami for another night.
- I see the other manager named
Bastus/Pastis (whatever, he's an asshole
). I ask him if he guarantees I'm going to make my connection. He guarantees it despite the fact that I would have 40 minutes to get to my connecting flight if the plane left right away. At this point, I rushed my ass to the plane.
- Flight is delayed longer. By the time I get to Miami, I am waiting in a LONG LINE in customs. After customs, I am
SPRINTING
to check in my luggage to SFO.
- Airport rep tells me that I missed my flight. She checks again and tells me it's been
delayed
.
- I am
SPRINTING
as fast as I can to the gate. I tell the AA rep at the counter how American Airlines has fucked me over x 10. He says he would gladly upgrade me but business class is full.
HOW COME ONLY THE AA REPRESENTATIVES IN THE MIAMI AIRPORT HAVE AUTHORIZATION TO DO UPGRADES?
It's because the rest of the AA reps are liars.
- Get on
delayed flight #9034898723409803948
. Reach SFO around 11h15 PM.
-
AMERICAN AIRLINES LOSES MY LUGGAGE.
- AA rep tells me that the luggage will be on the next flight to SFO and arrive at 10AM. They typically have a 5 HOUR window as to when your suitcase will be delivered.
- I have to catch a flight to Philadelphia the next morning at 11h30AM! The AA rep then says "we can ship the luggage to Philadelphia, then you don't need to pack anything."
I then explain to her that weather is really different in Philadelphia than it is in Brasil.
I have to pay an extra $20 to check in an extra suitcase, and expense that the AA rep says they WON'T pay for even though it's their fault.
- Leave the airport around 12 AM.
- Stay up until 5am sorting out errands and packing.
20 Nov 2009
- Call AA luggage center at 8AM.
THEY HAVE NO IDEA where my suitcase is.
- Call AA luggage center at 9AM.
THEY HAVE NO IDEA where my suitcase is.
- Call AA luggage center at 10AM.
THEY HAVE NO IDEA where my suitcase is.
- Call AA luggage center at 11AM. They
*think*
the suitcase is still in Miami. It will be flown to SFO. WHY? The forwarding address is in Philadelphia. I told the rep it makes
NO SENSE.
She tells me that
no one looks at the updated information until the suitcase is sent to the original destination.
American Airlines - you are so SMRT. S-M-R-T. Let's fly a suitcase from Miami --> SFO --> Philadelphia instead of direct. Because it's efficient! (Insert sarcasm).
- Call AA luggage center at 12PM. (Yah, I also miss my flight to Philly. I blame it on bad karma and traffic). They tell me my suitcase will be flown in at 12AM in Philadelphia. Perfect, I can pick it up at the airport. Given $50 allowance for toiletries and clothes. Air France's allowance = unlimited. I guess I can buy a toothbrush, some lotion, and some underwear.
21 Nov 2009
- Red-eye to Philadelphia. Arrive around 6AM. Call AA - the rep tells me the luggage center is closed and to find a ticketing rep for AA. It's a terminal away, I'm tired, and I can't find any AA reps to help me. Fuck this.
- Call AA around 9AM. My suitcase is not even at the Philadelphia airport yet. Thank goodness I didn't walk to the other terminal and waste more time.
- Call AA around 1 PM. Suitcase is in Philadelphia airport somewhere. To be delivered between
1h30 PM - 6PM
.
-
Didn't receive luggage until 10h30 PM
.
Two days without my luggage.
- Don't even want to think about how many hours I wasted with these fools. The only way to receive a response about any of this is to go online and submit an email. I'm sure I will receive a response
(insert sarcasm again).Conclusion:
Check out this excerpt from the
Feldman Blog
:
"
Rude,crude employees—Need To Be Fired, Or Dropped Out Of Planes
Time to give serious thought to taking some American Airlines employees and dropping them from some of the planes –though that would be hard to do considering the planes are grounded for inspection.
A friend relates a horror story of trying to get American to pick up the phone to resolve a travel issue, only to be met with seemingly endless waits and then rude employees who either hang up on you or treat you like dirt.
The calls allegedly are recorded by the company…American should listen to each and everyone and fire the employees who treated customers badly."
Just google American Airlines sucks. Plenty more information there.