For my belated birthday celebration, Raf took me to dine at
Vetri Restaurant
for the Grand Tasting menu. I've used
Marc Vetri's pasta recipe
at my last job, and have heard a lot of hype about the place, competing with Mario Batali's restaurant, Babbo for being one of the best Italian restaurants in the United States. I have been anxiously waiting to eat here. Sadly, the lighting was so dim, I couldn't get any decent photos.
First, we were offered a very nice glass of Prosecco.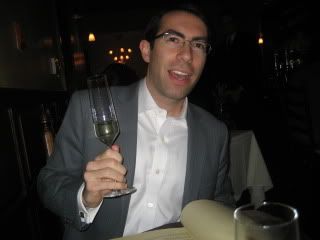 I managed to drink most of it (hooray for my tolerance!)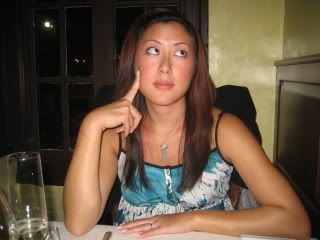 For the canapes and amuse bouche, we had a
beignet with shaved lardon, squash fritter
, and
foie gras pastrami with fruit mustard
. The beignet and squash were oozing with oil. You know when you microwave something already fried like a fried sesame ball, and the oil oozes out of it? It was like that. I ate the lardon, but didn't finish the beignet or squash fritter. The flavor of the foie pastrami was DELICIOUS except for the fact that mine was way too tempered - it was almost lukewarm. The foie flavor was slightly overpowered by the pastrami flavor, but nonetheless, it was good. Raf's piece was the right temperature. We also had a
celeriac soup
paired with a lukewarm
Spanish tortilla
.
Next was the
Nantucket scallop crudo with grapefruit
- which was what you'd expect from a scallop crudo. Don't get me wrong, it was fresh and light, but I feel a little bit bored with all the crudos, tartares, ceviches out there. I'll stick with sashimi when I eat Japanese, and ceviches when I eat Peruvian. Or maybe it was because at my last job, we had some type of raw tuna (or other fish) almost every week on the tasting menus which got old fast.
Next was the signature
golden sweet onion crepe with white truffle fondue
. The crepe was baked until crisp - something we did at Crillon in Paris. In the middle, it was filled with slowly caramelized onions. Really don't know where the white truffle fondue was since the flavor was nowhere to be found. Raf enjoyed this dish more than I did.
The
almond dusted sweetbreads with chestnut crema
was very good. Although the sweetbreads were not crispy, they were nicely cooked and tender. I absolutely love sweetbreads!
A big winner of a dish was the
spinach gnocchi with shaved parmesan and brown butter
. The gnocchi was rusticly plated. These were the best gnocchi I've had. Very nice spinach flavor and extremely delicate. The texture was fabulous - not too chewy or gummy. Ummmmm, and browned butter. One of the best things in life. A very rich dish - I was done after a couple of them.
Next came two pasta dishes. The
strozzprette with seafood (mussels and octopus)
was perfection. The pasta was perfectly cooked (nothing beats home-made pasta!). The mussels were plump and juicy, and the octopus tender and flavorful. The
tagliatelle with turkey bolognese
was okay in our opinion - but that was probably due to the fact that we ate that after the
strozzprette
. It should have been served beforehand since it was a lighter dish. The tagliatelle was a bit too soft also.
Last but not least was the
baby goat with soft polenta
. The slow braised goat meat was meltingly tender with pieces of perfectly salty crispy skin atop a dollop of polenta. Again, rusticly plated and very hearty. One of those comfort foods I could see myself craving for in the future.
Last, was dessert. The
chocolate polenta souffle
(more like a chocolate polenta cake) was very rich and dense. Great use of polenta. Thumbs up for preserving the flavor and richness of chocolate rather than loading it with sugar. Texture was nice too.
Persimmon rice pudding
was great as well. Thick and creamy arborio rice with sweet dice of persimmon.
By the time the mignardise came, we were beyond stuffed. But of course, we had to taste a little bite of everything. The
biscotti
was good. I don't remember much about the other cookies provided. They also served
opera
which was nicely done. And a
cannelé Bordelais
which was
terrible
. Really terrible. Like
black and burnt, throw it at someone's head and it would feel like a rock terrible
. With the variety of mignardise provided, I was surprised that they would even serve that. Well, large variety aside, something that burnt and hard should not be served to a customer in this type of establishment.
But overall, the meal was very good. A couple things I noticed was chopped parsley in every dish, and no vegetables. Well, besides onions, and two pieces of arugula, there were no vegetables. Maybe it's because I am from Cali where fresh farm produce is plentiful and abundantly used and celebrated in restaurants. I don't know - I do love my meat and carbs, but I still need my veggies. Regardless, it was a very rich, flavorful menu. Service was friendly, attentive, and unobstrusive. It is a bit tough for me to compare the cuisine to authentic Italian food since my travels to Italy thus far are limited to 7 days in 2 cities - I would be very curious to have the opinion of my foodie writer/friend Aaron (creator and former author of
A Life Worth Eating
) who is "Team Italy" as I like to say. Will we be back? For $360, probably not, but I am glad to have finally dined here and enjoyed the experience very much.
Vetri Restaurant
1312 Spruce Street
Philadelphia, PA 19107
(215) 732-3478