For the kids to get along. First two weeks were hell. We put a gate up and Ginger would go nuts barking because the cats would come out for literally 5 seconds a day. What a tease. Then around three weeks, it was exponential improvement! The cats kept jumping over the gate (because Whiteman was hungry and wanted a food refill!!!) Whiteman was the one with the balls. He would jump over every night while Buddy hid behind the corner. Anyway, We don't even use the gate anymore. Gingy loves Whiteman and sticks to him like glue. But he gets annoyed and hits her nose all the time. POW! Buddy hisses and moans at her sometimes, but he's a lot better now. He's starting to sprint all over the place. Ok, here's some pix:
Smooshy face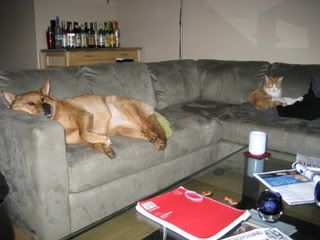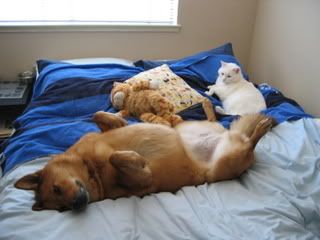 What's doggie tail smell like?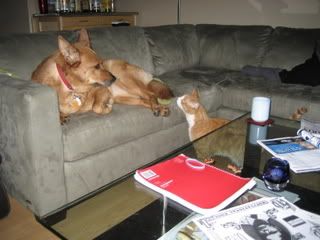 Too bright!
Tooo bright!
Brotherly love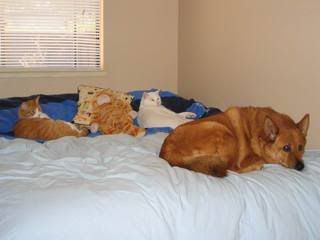 I was super pessimistic at first because Gingy would go crazy in the beginning and the cats would never come out of the room. Sigh, at last! The impossible is possible!