Remember my post about having guest chef,
Chef Pascal Barbot***
come do a demonstration? Fortunately for us, our chefs setup another demonstration with
Chef Nicolas Magie
. He flew into Paris the morning of to show us a few of his recipes and to have lunch with us. Chef Magie is a very nice and humble chef - it was nice that he left his busy restaurant for one day to come see us.
We worked on the fourth (French) floor today. Usually are on the first.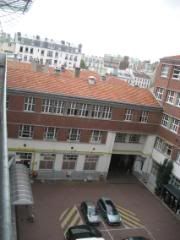 Me, Eldar, and Jessica were prepping the gambas.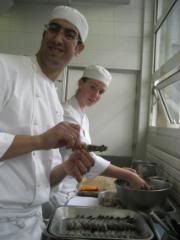 Here are me, Bengi (a.k.a. Bang-me), and Chris HK taking out the bignoreaux from the shells. Time consuming to say the least.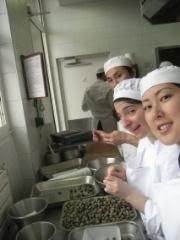 I don't think this was even a third of it.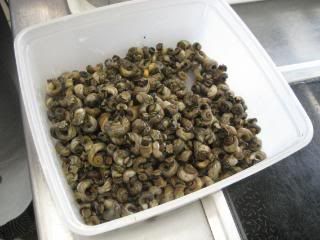 End result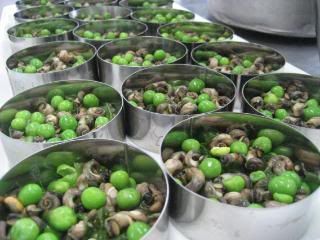 So after I finished some mise en place for the bigorneaux, I cleaned this plastic tray and asked Bang-Me where I needed to put it. She replied:
"Dans mon cu."
(In my ass in French).
I was like:
"Okay, turn around and bend over."
Right when I said that, my chef walked by and was like:
"Qu'est-ce que j'ai entendu?"
(What did I just hear?)
HAHAHAHHAHAHAH. I swear whenever I happen to swear or say something perverted, my chef ends up walking by! But it was fine. He doesn't care - I'm sure he finds it somewhat entertaining. AHAAHHA. Ok, moving on to more serious issues - the courses.
Chef Magie in action for the first course - amuse bouche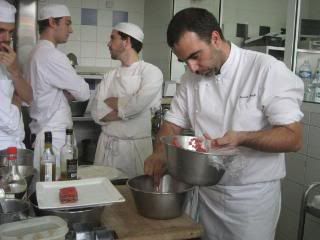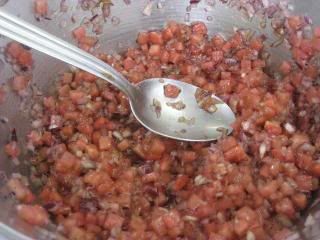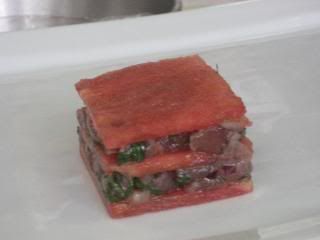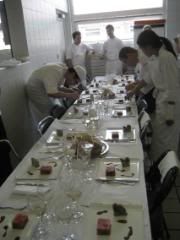 This is the final product - the amuse bouche !
Thon rouge en deux textures.
Really excellent - tuna with watermelon and various other herbs and condiments.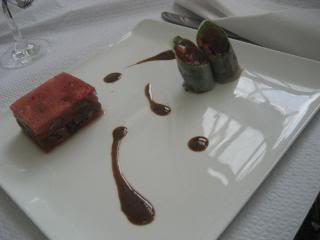 Now onto the 2nd course.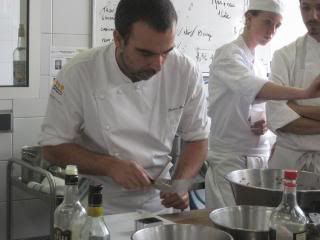 This was a type of plant from China that made your mouth a bit numb. Forgot the name of it. If anyone knows, let me know!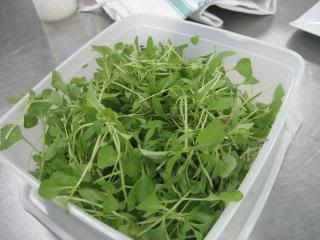 Gambas croustillante au gingembre, gelée de céleri branches. Croquante rafraîchi de céleri rave et jeunes pousses de salades.
Delicious !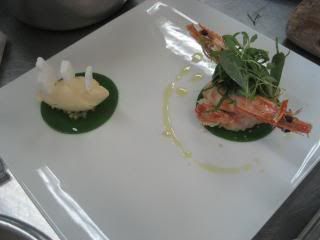 I love Gambas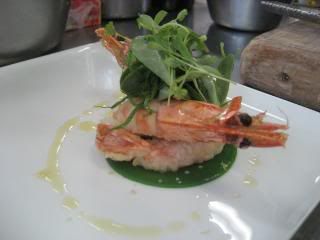 Canadia playing with his food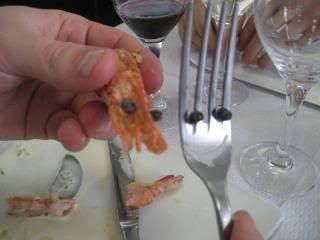 Group effort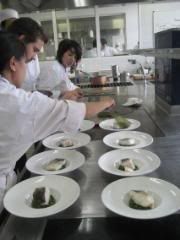 Cabillaud confit basse température compressées de petits pois aux algues beurre de bigorneaux citronné et feuille d'algues
. The mini-snails we deshelled combined with the peas are underneath. The seaweed was a combination of nori and caramel. Yummy.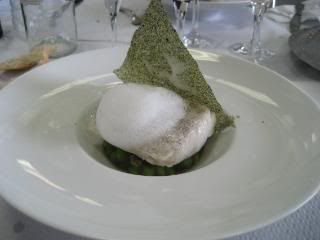 And in between courses, Canadia and Eldar took my camera to take self-portraits. I don't know how many random photos of Eldar I have found on my camera. So I feel it is my duty to post their photos. Yah, these are the PG photos.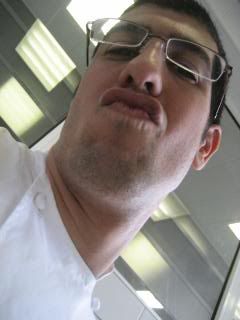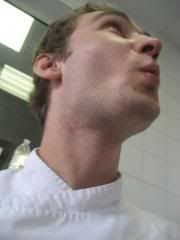 Dessert!
Mont d'or en émulsion, gelée de pommes verte acidulé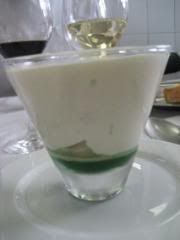 Regardes dedans! Really rich, but a good balance of savory and sweet. I couldn't finish all the cheese though.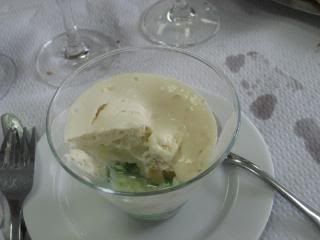 And some photos of us for amusement. Me and Bang-me. Guess who gave her that name? (Hint: his name starts with E)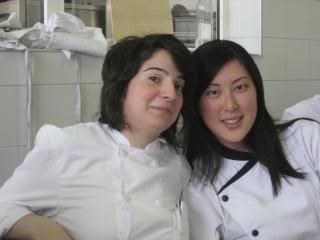 Ido, Eldar, Amanda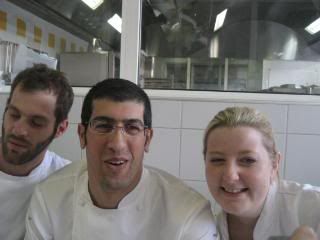 So I got a bit buzzed today during our meal. I didn't eat much for breakfast, and we had champagne as an apertif. Since school is coming to an end, I figured why not have some more celebratory wine? I was rosy and happy as usual... well, we have this thing in class where people spray other people's ass's with D10 - this disinfectant. Apparently, I got sprayed and I had no idea until later when I started walking around and felt cold damp pants. I figured out it was Alex (or Andrew!). So I took the hose in the garde manger where they were. I wanted to see if the water was on - I was like "
does this work?"
I pressed the lever and ended up spraying myself on the side.
Let's just say there was an uproar of laughter - then Alex and/or Andrew went into the kitchen to announce to everyone else that I just sprayed myself. And then more laughter.
Oops! hahahahahh Good times. =) I love school !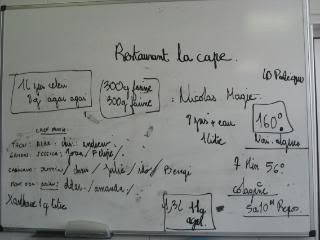 La Cape
Executive Chef: Nicolas Magie
9, Allée Morlette
33150 Cenon, France
05 57 80 24 25