Today, my buddies Yuichi and Carlo took me to eat an American breakfast at
Lou's Coffee Shop
of pancakes, eggs, and bacon. And of course, watered-down coffee. Ummmmm. Never thought I would appreciate American breakfasts but Paris can do that to you. Also spent some time mingling around downtown Los Gatos, getting some tea, and finally buying a microplane.
Lou's Coffee Shop
15691 Los Gatos blvd
Los Gatos, CA 95032
(408) 356-8383
After, I went to meet Charles, Phuong, and baby Kyle in San Mateo for Shanghainese food at
Little Shanghai
. We got chong yuo bing (green onion pancake), xiao loan bao, nian gao (Shanghainese rice cake), nyu rou mien (beef noodles), and tang ren (sesame tapioca in a wine broth). My ping-ying is way off, but anyway it was soooo good. I loved it.
Kyle has gotten so big !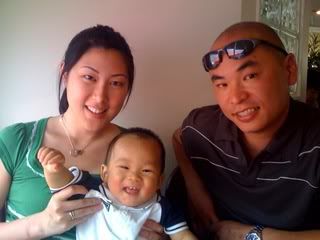 Little Shanghai
17 E 25th Ave
San Mateo, CA 94403
(650) 573-7161
Then I had to meet the family for good old
Chinese Muslim food

.
One of my favorite Chinese cuisines.
There are a few of these restaurants in the Bay Area, but this one is by far one of my favorites. The chef here actually trained the chef at another very popular Chinese Muslim restaurant called
Darda
. I still prefer the consistency of the noodles at Darda, but everything here was better in terms of flavor and freshness. Fucking delicious.
Chinjin Eastern House Restaurant
1530 South De Anza Blvd.
San Jose, CA 95129
(408) 865-0302
I have been eating so much that I actually felt sick today after dinner which really isn't all that surprising. Since I don't have much time here, I have been trying to meet up my closest friends as well as spend enough time with the bf and family too. And of course, everyone wants to meet up over food. I wish I was here for longer! It's so good to see everyone.