Today I had my second and third CAP tests. The first one was at 9am and for History and Geography. I had written my history paper on Molecular Gastronomy (progression of traditional cuisine to molecular), and the geography paper on the ban on foie gras in Chicago. I spent a bit of time on both papers (and so did Christophe for editing!) but
malheureusement
they didn't except my papers because the subjects were supposed to be more specific and on things like wars, etc. As for the history of cuisine, the lady interviewing me said it had to be more specific like on the history of a restaurant.
Tant pis!
. My papers were interesting.
Instead, she pulled out a diagram and photo about the increase in production of materials needed to build tanks and planes (Renault) during WWI. Since she knew that I couldn't speak French fluently, she cut me some slack and asked me really easy questions. She asked me to describe the diagram and photo, and also discuss why there was an increase of women working during this time. She was really nice. Only 15 minute oral test. So far so good.
My next exam was at 13h30, so I went home to study for that. It was for "Connaissance l'entreprise" or knowledge of the restaurant/hotel business in general - 10 minute written, 20 minute discussion.
When I arrived, I ended up seeing one of the French teachers, who is
totally nuts
by the way (she hates all the Anglo cuisiniers), but that is a completely long and different story. Since she knew me, she couldn't be my interviewer. Instead, I went to the next jury. He gave me a list of questions to answer. I heard the French teacher talking to him so I was afraid she put in a bad word for me. I never did anything to her, she really is crazy. But who knows?
So the first part of the exam had questions about working contracts in France and what papers were required. The second part was easy since it was about recipes and costs. The third part was about budgeting. After I wrote down answers to the questions, we discussed the material for 20 minutes. Generally, for someone who knows French really well, this test is ridiculously easy. But I did not know some of the technical vocabulary and acronyms in French, and some questions he asked me were lost in translation. When he was explaining it to me later, I was thinking "
this is so easy!"
Overall, I don't think I did well but I think I at least passed. I was feeling very frustrated afterwards because I do know how the business works in general, but couldn't express it in French.
After the oral exams (phew, so glad I got those over with), I went to school to begin prep for the
last restaurant service.
There were no recipes given, just some ingredients written on the board. I was originally assigned to the pigeon dish but those were finished by the time I got to school. Darn, still haven't worked with pigeon. I just helped with random things like turning artichokes and carrots. We had 65 covers tonight coming all at once as a big group. Everything was to be sent out at the same time.
We were in a different kitchen today because the other kitchens were reserved for CAP exams. This kitchen was
fucking hot.
Like sitting in a sauna with sweat dripping down your back for 8 hours, hot.
But it had a nice view of the school.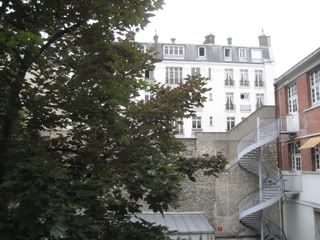 Me and Felipe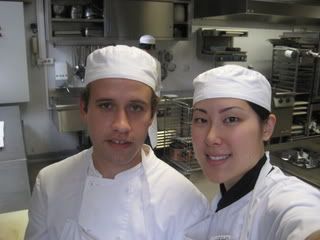 Amuse bouche to go with the pigeon -
Compote d'abricots à l'amaretto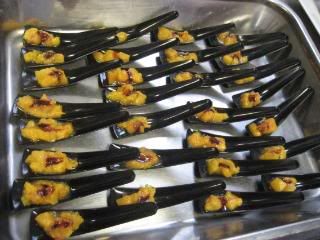 Poitrine de pigeon au réglisse
Mise en place for the veg. This was my station tonight.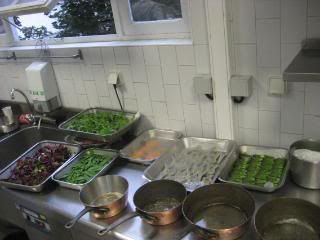 Took a long time to plate all the veg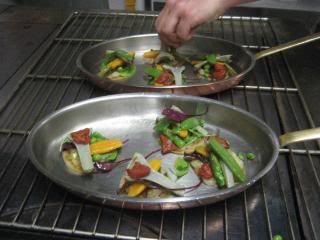 Table-side cut (wonder how that went for the waiters in training) of
Train de cotes de beoufs
. Look at the size of those things. I wish I saw what the meat looked like cut.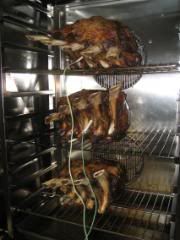 Service was fast tonight. Didn't feel like a typical restaurant service since a few of the other Anglos were in pastry. *Sniff Sniff Sniff* Last resto !