Toots and Matt are in town ! They flew into Paris the same day as I did. Great timing too, because they were able to join us for regional meal.
Fricassée de girolles aux croûtons et persil frit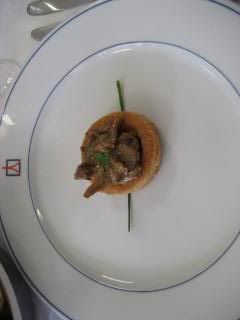 Pointes d'asperges dorées au beurre, sauce bordelaise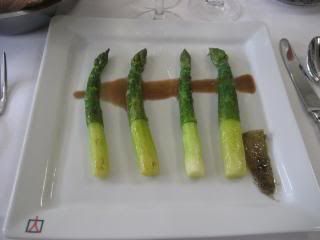 Queues d'écrevisses en timbale, vinaigrette de sauce Nantua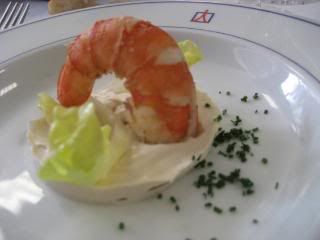 We got an almost whole agneau.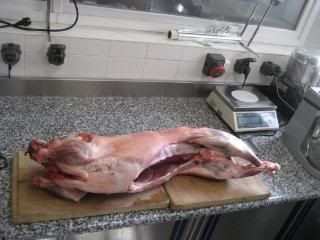 Agneau de lait de Pauillac en deux services: poêlée de cèpes et pommes parmentières, flan d'huitres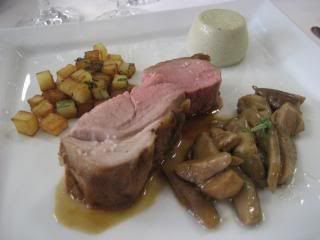 Cannelés, Sorbet au sauternes
Like their chef whites? Matt was able to squeeze into mine (almost). Showed his figure well.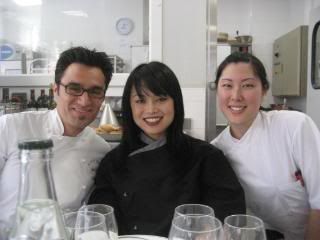 Later that night, Toots and Matt treated me to a delicious Tibetan dinner at
Kokonor
. First time for all of us. I am no connoisseure on Tibetan food but I really enjoyed it. We ordered a salad (nothing special), and these vegetarian samosa type things with an excellent sauce. These were really good. Who knew vegetarian food could be good? We also ordered beef curry which was different from your typical curry. It was more like a stew with a touch of curry, but non-spicy. Extremely tender. Very good. They mixed up our order and gave us a pork stir-fry. It tasted very Chinese. Originally we ordered fish. Since we came in at 11pm, 30 minutes before closing, we decided not to change it. For dessert, we got some ice-cream, as well as a rice pudding. I love rice pudding and really enjoyed it here.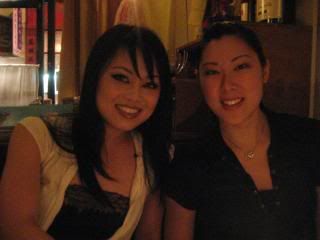 The owner was dining with some friends a few tables down. He was speaking Mandarin so when I left, I told him "thank you" in Chinese. He was quite happy to speak to a Chinese person. We chatted for a bit and he told me where he was from, and that his chef was from Shanghai. My Mandarin is more than rusty (think 4 year old level) so I ended up speaking a mix of Mandarin and French which probably sounded quite funny. I also mentioned that I moved here to learn French cuisine. His friend was like "OH C'EST BIEN, C'EST BIEN!" Hahha, it was cute! Anyway, I want to come back another time and try some different things. Thanks Matt + Toots !
Kokonor
206, rue Saint-Jacques
75005, Paris
01.43.29.96.14
We did some bar-hopping on our way out in the 5th.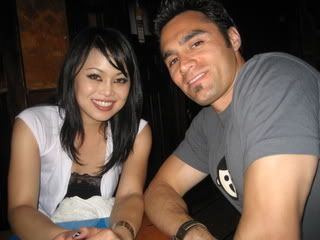 And after, we took a cab to Pigalle and hung out at an Irish bar that me and my school friends often hang out at. It was an interesting experience. One of the bouncers there was a total
douche bag
. Matt bought this crappy pastry covered in powdered sugar. He wrapped it in paper and put it on the table in the bar. Toots was moving it and it accidentally spilled powdered sugar all on the table. So you can imagine what it looked like. The douche bag came by and asked us what it was. lol. We tried to clean it up, but he came by with a sponge. Then he started telling me in a really condescending tone where the trashcan was. I'm like "Oui, JE SAIS !" x 10. Then he says the same thing to Toots. I told him she doesn't speak French, and he kept telling her to throw it away
MAINTENANT
(now). F'in douche. We just sat there for a bit. We would have left but Matt had already gotten drinks. Afterwards, Toots left the wrapped pastry on the table and we got out of there fast. HAHAHA
Long story short - there was a really drunk American guy that got kicked out but kept coming back in. When we walked out, the bouncer pushed the drunk dood onto a CAR. And right in front of me - I totally could have gotten smashed. The drunk dood came back (not to fight), and the bouncer hit him in the face a couple times. And later, he picked up a wicker bench and hit him on top of the head with it ! F'in crazy. Of course, the drunk guy was an idiot - we have no idea why he kept going back. But still, the bouncer was such a ass for taking cheap shots to a guy who clearly didn't know what he was doing and was not being violent. Ughhh, well we hope the douche found our shitty little pastry on the table.
We wanted to go to a club but it was already around 3AM. We called it a night, went home and had some ramen. Ah, nuttin better than
"

it's so f'in spicy"
ramen in the middle of the night.