Today Raf and I went to eat at
Pluto's
for lunch. I ordered my favorite tri-tip salad and garlic fries. So fresh, satisfying, and healthy. And tons of
CRISPY
vegetables.
For some reason, medium rare to them means well-done. EVERY single time I go to the San Jose branch, I always have to watch them grill my meat. It's pre-seared - they just slice and throw it on the grill so it's rare to begin with. Well the guy cooked one side pretty well. I told him twice that it's done. He said to his colleague in Spanish "It's still red. If she wants it red, then I will give it to her red." ahhahahaha. Of course it's still a bit red! Medium rare! Anyway, I am glad he took it off the grill before it was too late. I don't get this American phenomenon of
bien cuit
or well-done meat.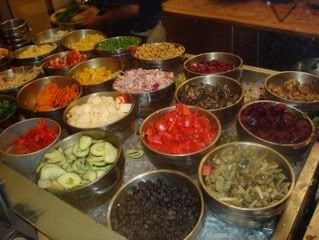 Pluto's Fresh Food
3055 Olin Ave
San Jose, CA 95128
(408) 247-9120
*More variety of ingredients, slower service.
Pluto's Fresh Food
482 University Ave
Palo Alto, CA 94301
(650) 853-1556
*Busy but waiting time is minimal. Much smaller than in San Jose. Always tasty.
Afterwards, I got a pedicure at Lavande Day Spa (gift certificate) in Santana Row which totally sucks so don't go there. Ever. Unless you are a rich housewife that has money to waste for a shitty pedi.
Afterwards, we went to his coworker's place to play with his new baby German Shepherd, Kona. I wish I took pix! She was sooo cute with big old paws. She was bouncing all over the place ! Ah, to have a little baby pup again.
Then for dinner, we ate at TANTO'S- f'in good Japanese tapas. I finally got to order
Yaki Onigiri
. Wasn't as good as Gochi's but still pretty f'in good.
We tried to get into
Gochi
(the Japanese chef is actually classically trained in French cuisine) but they were booked solid and
somebody didn't call to make reservations when I asked him two weeks ago
. But it's ok, Tanto's was good. ;)

Tanto Japanese Restaurant
1063 E El Camino Real
Sunnyvale, CA 94087
(408) 244-7311
Gochi Japanese Fusion Tapas
19980 Homestead Rd,
Cupertino, CA 95014
(408) 725-0542
Afterwards, we went to some new yogurt place in Cupertino. They have been popping up everywhere - it's the new fad now. Raf just ate a bunch of free samples while Yuichi legitimately bought his own. HAHAHAH. THEN we went to get more balls at Fantasia. Ummmmm. And after to Raf's place to watch the Office and chill. Good to be back and relax with my friends.