Nina and Christophe invited Andrew and I to brunch today. And we gladly accepted. We thought we were going out to eat, but Nina and Christophe ended up preparing this huge meal for all of us. It was fantastic! We had so many little plates - confit de tomates, confit de poivrons, sausage, sardines, roasted chicken, potatoes, salad, fresh fruits, bread, wine, tea, juice, coffee, etc. They also bought a bunch of croissants and pain au chocolate. And I really believe that the pain au chocolat they bought were the best I have had in Paris thus far. It was from a little bakery close to where they live in the 10th (Indian town). Impressive setup for brunch. Our tummies were quite happy.
Merlin, Andrew, Nina, Sorel, and Christophe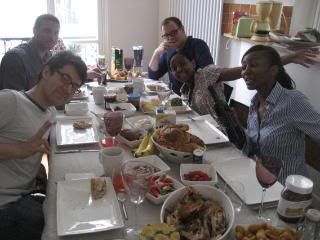 Those boys can eat. They all finished off the bowl of croissants and pain au chocolat. But Merlin - I swear he ate like 4 or 5 of them AFTER we finished eating, and he slathered nutella all over the croissants. HAHAHA. Oh and apparently, he likes to mix bananas, nutella and ham or steak together? Never heard that one before !
After filling up our bellies, we took a walk around Canal St. Martin - they close a section of the street on Sundays so that people can walk around. We wanted to sit and get coffee but it was an unusually packed day today. Merlin had to go back home to Toulouse, so we went back to the Canal and grabbed a couple cokes and beers, and sat around to chill and chit chat.
Ah to enjoy life in France. Eat, drink, and be merry. =D We headed home after a bit since me and Nina needed to do some homework. Christophe ended up helping me with my CAP papers for history and geography. It turned out to take a LOT longer than expected. But I am sure he learned a lot. HAH! In the meantime, Andrew was playing video games with Sorel.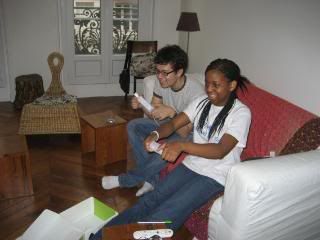 It was SO hilarious because we could hear him from the kitchen yelling about the game. Mr. Competitive comes out when the video games begin ! I walked in to check out what they were doing and I hear Andrew talking shit to Sorel in French saying, "so who has 6 points? Who's winning here?" Oh man, Andrew ! You are hilarious. They played games for as long as we were editing my papers. Andrew was quite exhausted afterwards. hahahahah. We didn't end up leaving until around 930pm ! We had every intention of going home right away, but we were walking by all these Indian restaurants so we decided to check one out for dinner. And we were just so hungry.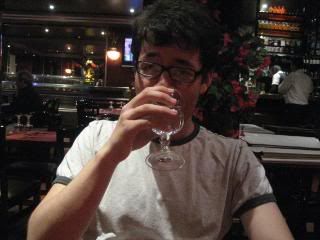 Samosa. It was really different from what we have in the states - filled with cabbage and stuff. The sauces that came with it were delicious.
We asked them to make our food really spicy. I couldn't taste any heat but Andrew said he did. Flavor was really good, and the chicken was nice and tender.
This is like a type of Indian cornmeal dessert soaked in syrup. A bit too sweet and too heavy for me so I could only eat two bites.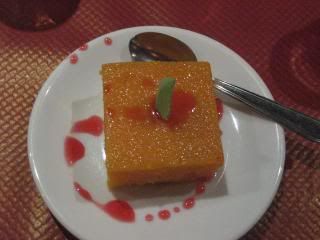 Overall, we were both pretty happy with the meal. It was only 9,50 for 3-course prix fixe. Not bad. Pretty filling and satisfying too.
Madras Café
180, rue du Faubourg Saint-Denis
75010, Paris France
+33 1 4205 2956