Since we virtually don't have any long vacations in school besides Christmas, for this long 5-day weekend, I decided to go to California. Crazy, huh? It was time to see the family, bf, dog, and friends.
I have pretty much been eating this whole time. Wednesday night, I arrived too late so one of my favorite ramen shops,
Ryowa
was closed. We hit up
In-N-Out
instead. HAHA.
Today I spent the afternoon at my parents house playing with my new nephew, eating a delicious home-cooked Chinese lunch, and napping. At night, Raf and I finally went to
Ryowa
for dinner. I had reservations at
Incanto
(the chef Chris Consentino, 3rd runner up from 'Who's Going to be the Next Iron Chef') but we were too lazy to drive to the city. We didn't want to waste two hours of our time sitting in the car and $20 for parking, especially with my short time here.
At Ryowa, we ordered the usual - shoyu ramen, the best chicken karaage that I've ever had (it's the sauce and the way it's fried), and the pork fried rice. I typically don't order fried rice often, but it's really good here.
Shoyu (soy sauce) ramen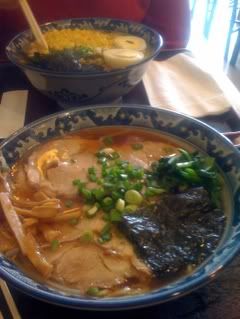 Chicken karaage.
I love Japanese mayo.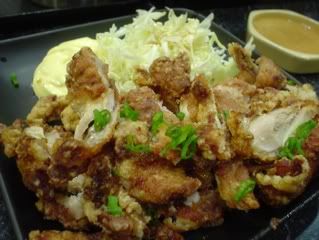 Ramen House Ryowa
859 Villa St
Mountain View, CA 94041
(650) 965-8829
Then of course, we went to get balls. Ah, nice delicious, cheap, fresh, and satisfying meal. We just took it easy and relaxed tonight.