Chef James Syhabout, whom I met during my
brief stint at Manresa
, opened up his restaurant this summer. I decided to treat Raf here for dinner before his big move to Philly to attend Wharton. It was a fabulous decision, to say the least.
Commis is a relatively small restaurant, having only 33 seats. The decor is simple, modern, and crisp - very Amsterdam-ish.
Corn pudding amuse bouche. Amazing. Best corn pudding I've ever had. This is what an amuse bouche should be.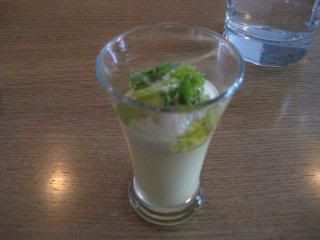 House-churned butter. The cream comes from a farm in Petaluma.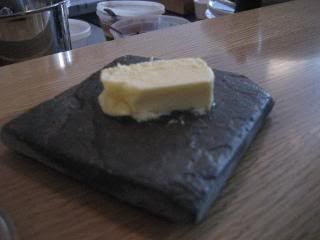 Cute mini-rolls. Perfect size so you don't stuff your face with bread during the meal.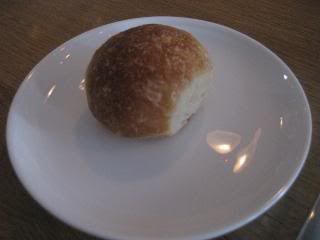 Chef James doing his thing.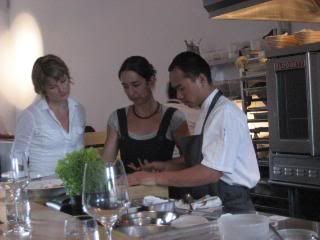 Soft farm egg with potato and alliums. Fermented black garlic, pork jowl. This was a fabulously balanced dish - with the pork fat, garlic, and veg.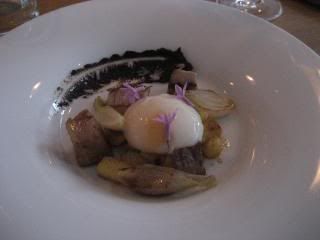 Raf got ronde-de-nice squash soup and bay shrimp.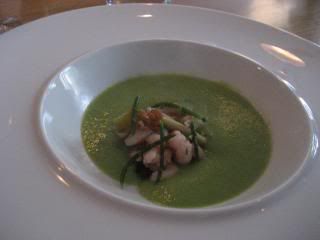 Salad of young carrots. I loved this as well. I gotta say those coming from Manresa sure know what the heck to do with vegetables. Raf hates carrots but loved this dish!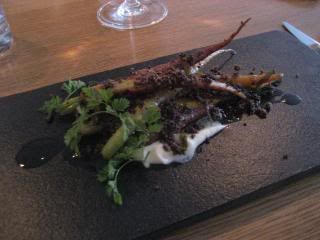 Monterey Bay Sardines, lightly cured and smoked. Very fresh, crisp, and delicious.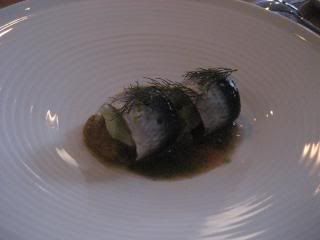 Tender, perfectly cooked medium rare lamb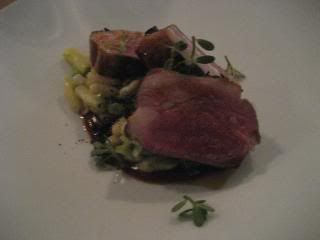 Corn fed chicken poached, then roasted in summer savory. NO JOKE, the best chicken I have EVER had.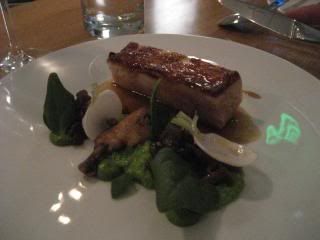 Now onto dessert!
Melon soup, fruit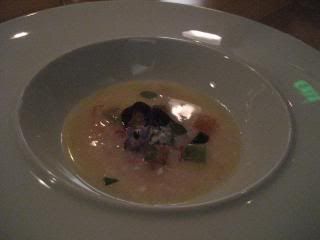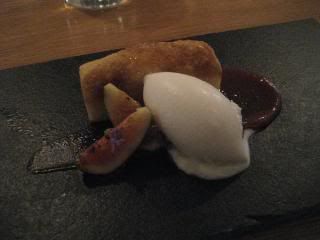 I'd have to say that this was the most exceptional meal I've had this year in California. It's very reasonably priced too, $59 for 3-course. I'm a bit jaded now in terms of fine dining here in California, but this place hits the spot. It was completely satisfying and perfectly balanced. I was full, but I didn't leave feeling like I ate up to my throat. (I don't care for heavy tasting menus where you feel like throwing up towards the end.) Simply put, everything was perfectly cooked, perfectly seasoned, perfectly portioned and plated, and perfectly delicious. I'm very excited for James - his restaurant is already a huge success. I defintely see stars in the future. Raf absolutely loved it too. I found Commis to be a very inspiring place to be, considering I am relatively new in my career as a cook.
I can't wait to go back.
Commis Restaurant
3859 Piedmont Ave
Oakland, CA‎
Tel: (510) 653-3902‎