Had lunch with my sister today at Tradiciones Peruanas in Sunnyvale. She has travelled extensively through Peru, so naturally, I would trust her judgement for finding a decent Peruvian restaurant in the Bay Area. I have only been to a handful of Peruvian places - two in New York City which were excellent, two in San Francisco that were whatever, and now this place.
It was quite rustic and wonderful. Like the name, it is traditional Peruvian food. We opted for the ceviche, the lunch special which was a chicken dish, and picante de mariscos (which was not picante, unfortunately). Everything was excellent. The ceviche was really good. Well-marinated, and not overcooked. Slightly spicy, and lemony.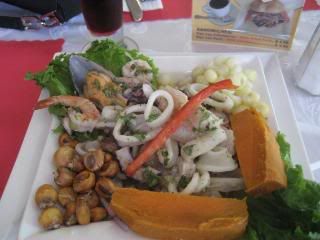 The Picante de Mariscos was great despite the fact that it wasn't spicy. The seafood here is cooked perfectly. How refreshing to not have rubbery scallops and shrimp. Great comfort food.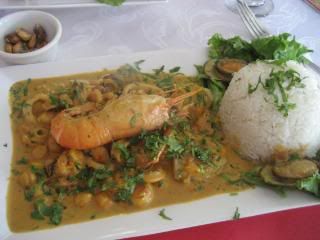 Sadly, they didn't have a lot of the desserts that were listed on the menu. Next time. At the end of our meal, we had a nice conversation in Spanish with the chef (or rather once the chef heard us say three words in Spanish, he figured we were fluent). We were curious to see if he was really from Peru (which he was). Super nice guy who brought us to the kitchen. It was funny because he was talking about how you have to cook with love, which is something I always say at work! I asked him to teach me Peruvian basics - he said to come on in when I want. Perhaps when my current gig is over (five more weeks until freedom!!!). Anyway, check it out:
Tradiciones Peruanas
1161 N Lawrence Expy
Sunnyvale, CA 94089
(408) 734-0209