Today was a special day for me during restaurant service.... because my chef got us a whole
Cochon de lait
(pig of milk) which is a baby pig. Normally, we would have gotten a smaller pig, but we got a toddler because we had 60 covers. Me and Eldar were both on this dish.
Flamber-ing porky's hair off
Wanna-be butcher now...?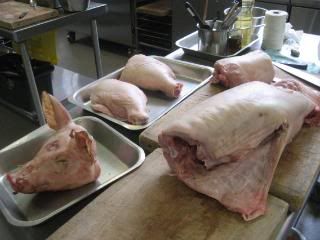 Smile for the camera
It was a really good learning experience for me to be able to take apart a whole animal and cook every part. I always ask my chef if I can work with meat so I was super happy when he said:
"The beast is all yours, Joan."
I had to cut the balls off and use that, along with the foie as part of the stock. I made some mistakes on cutting the
selle
, or saddle, and also could have been cleaner on the
carré
or ribs, but otherwise, it was fine. I blanched all the meat, marinated it, caramelized it to try to get the skin super crispy, then finish in the oven.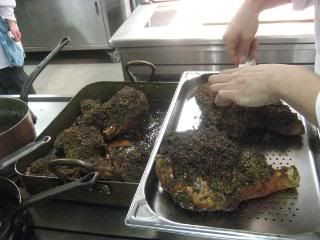 Yes, I am sure some of you are thinking "oh poor little pig! How could you?!" But come on, you know you order this when you go to a restaurant.
End result:
Cochon de lait apicius, cassolette de légumes primeurs au vinaigre balsamique, échalotes confites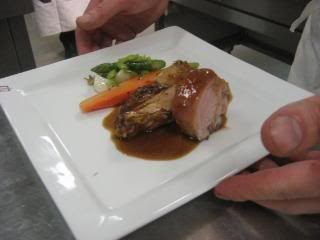 It was really really delicious. At the end of service, people came by and stole all the leftovers within a minute. I turned around, and all the leftovers were gone. WTF!
Salade niçoise
. Simple, right? The mise en place was super time consuming.
I helped Amanda line up the fish - Thomas Keller style haha
Filets de rougets poêlés, purée fine d'ail nouveaux au citron vert, champignons grillés
Tonight's menu was great - each dish had quite a bit of mise en place and needed a lot of TLC.
And a couple samples of Anglo B