Ever since Andrew and I had dinner at
Ze Kitchen Gallerie
, we were quite eager to try the tasting menu.
Ulla
, a student from last year's Anglophone class also loved eating at Ze Kitchen Gallerie and hadn't been back for awhile. (She used to work at HP in IT for a long time in Grenoble, France. She used to travel to Cupertino all the time. Small world!) Anyway, we all decided to go one night. Andrew had to take some convincing since he didn't plan on doing a tasting menu here this soon. Here is what we were served:
Farcis de torteau, Gaspacho Betterave, Condiment de mangue, gingembre, curcuma.
This Gaspacho was excellent. It was such a great balance with the beets, crab, mango and ginger.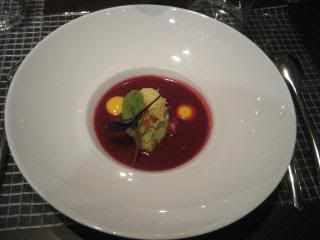 The second dish was a large tube of pasta cooked perfectly al dente with lobster. It had hints of citrus and ginger.
Macaroni, Pistou de roquette, asperges et crevettes, Bouillon Thai Citronelle.
This dish was also really really good but it was so close to the previous dish we had. We felt it was unnecessary to serve us both of these, especially consecutively.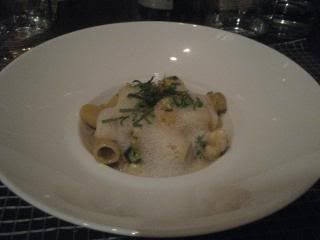 Next we were served daurade which was really excellent and cooked perfectly. Again, some hints of ginger and citrus but different from the previous two dishes.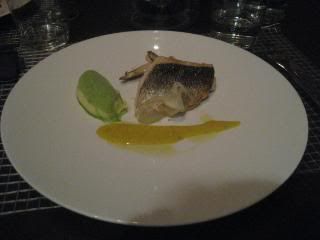 Now this was chicken. Really good chicken. See the gray/metallic sauce? It was sesame sauce which went really well with the chicken.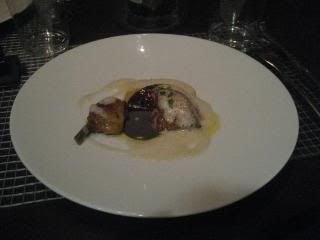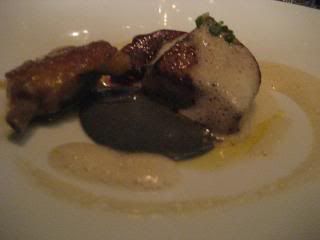 Glace chocolat blanc, pistache + wasabi, Torrone, jus the vert. This dessert was heavenly. I never knew I could like white chocolate. And pistachio and wasabi together is the perfect pairing! LOVED it. Also, they had a biscuit made out of egg whites which was so delicious. Ulla loved this dessert so much that she ordered another one!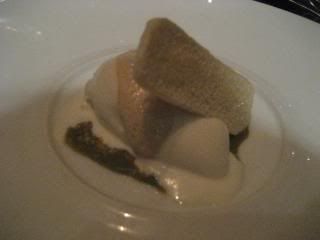 And the mango dessert. Deliciously sweet and tangy.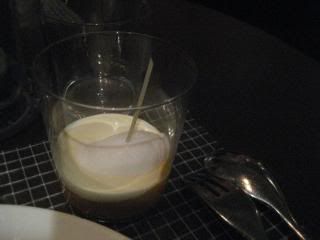 Overall, I have to say that this meal was very very tasty and satisfying. And it was also really light. I didn't feel like I was going to explode afterwards - which is a nice feeling. It was so nice to eat foods with more acid and different ingredients such as citrus and ginger. I LOVE coriandre and citrus flavors. Nice break from all the butter and cream. The only thing I had a problem with were dishes #2 and #3. They were EXCELLENT however, seemed repetitive in flavors and ingredients. Also, I think they should have served another meat like the Agneau de lait (young lamb). It was all seafood except for the chicken dish. I would definitely go back but not sure if I would go back for the tasting menu again unless they mixed it up a bit more. Andrew really loved tonight's dinner. One of the best meals he has had thus far in Paris. It was refreshing to have French food with South East Asian influences. The Asian fusion food I have had in California has been pretty bland. Chef Ledeuil really pulled it off.
Ze Kitchen Gallerie
Executive Chef: William Ledeuil
4, Rue Grands Augustins
75006 Paris, France
+33 1 44 32 00 32