Okay, before I get to food, just wanted to wish my big bro, Huang, a
HAPPY BIRTHDAY !!!!
I sent him a box of miscellaneous but delicious cookies from the Monoprix (a supermarket). Hehehe
Ok, so lucky me ! Rafael and his bro came to Paris for the weekend to visit. They are on a two week trip around France, Italy, and Spain. And apparently they hate Ibiza (off-peak means ghost town and eating one meal at McD's a day since everything is closed). Anyway, I ended up taking more photos of food than of them. Actually, I don't think I have a photo of Manny. OOPS.
Stepping outside my building. Ah, another French demonstration. What's new ?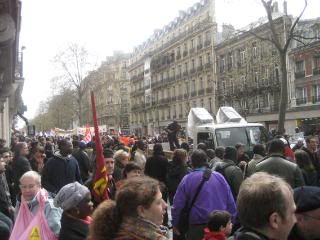 I brought them to places like Fauchon, Le Bon Marché, and Eric Kayser. It was a really nice weekend for me (and I hope for them too!)
And I bought them a box of
macarons
from none other than
Grégory Renard.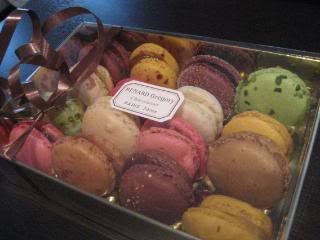 We had
citron, Cassis, pistache, chocolat sel, vanille, chocolat orange, framboise, and caramel.
I am not even a big fan of chocolate or vanilla but I absolutely love it here. The rasberry and pistachio are also my absolute favorites and taste REAL. I have been to other places like
Ladurée
which is good, but I find too sweet. This box is about 15 Euro. Check it out:
GREGORY RENARD
120, Rue St Dominique
75007 Paris
01.47.05.19.17
A big thanks to Andrew for the recommendation. He is my eating partner in crime and we often find ourselves talking about food for hours on end without even realizing it. And we also find ourselves tempting each other to go out to eat when we are trying to
budget.
Cheers to Andrew !
So after getting macarons, we went to eat at
L'Ardoise.
L'Ardoise is an amazing little bistro. The quality and taste of the food is totally worth it. And their portions are ginormous! Too big for me, but maybe perfect for the average American. ahhahah!
Here's Rafael ! Ain't he cute ?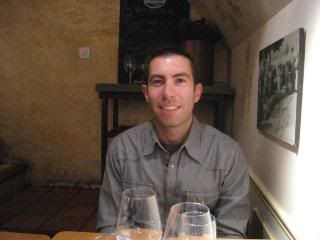 He ordered what was pretty much shrimp and vegetable tempura. It was good except for the fact that they didn't leave enough space between each vegetable when they were frying it - it was like one big tempura fried lump.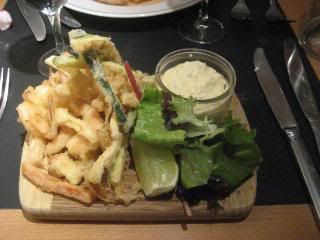 My dish.
Langoustines wrapped in brick, lentilles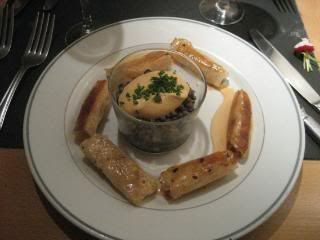 Manny's dish.
Escargots.
Can you say butter and garlic ?! This was soooo GOOD. And nice to soak up the butter with the delicious bread they served.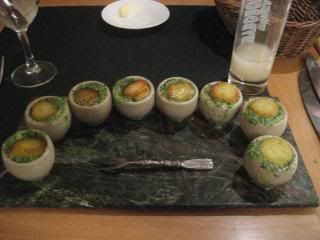 My dish:
Filet of cod in meunière with almonds and asparagus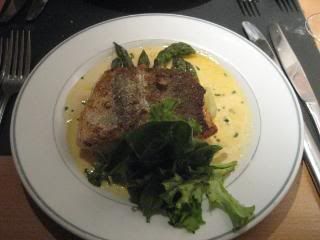 Manny ordered tuna. Look at the size of that steak.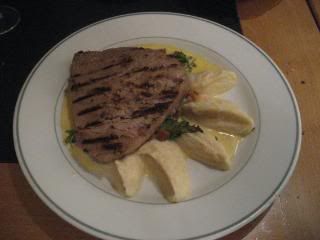 And Raf ordered pigeon. Ummmm.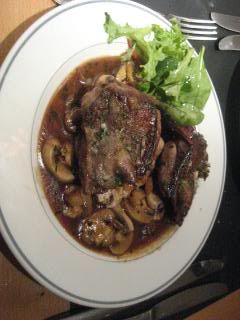 For dessert, I ordered a simple rasberry tarte with crème chantilly. Simple as it is, it is one of my favorite desserts.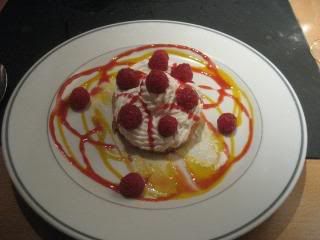 Manny ordered
Pots au chocolat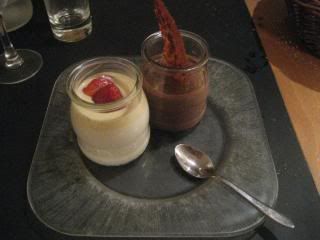 Raf's cheese plate. We couldn't figure out what one of the cheese's was, but it sure was stinky. =D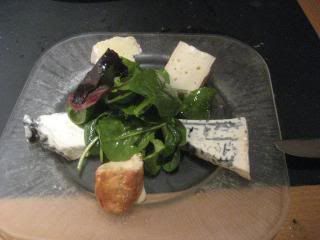 Overall, everything was tasty tasty TASTY. But like I said, the portions were too big for me. Regardless,
32 Euro
for 3-course prix-fixe is totally worth it. I can't wait to go back !
L'ARDOISE

Executive Chef: Pierre Jay
28, Rue Mont Thabor
75001 Paris, France
01.42.96.28.18