I decided to have a "Surprise" get-together for Andrew. Originally, I wanted to do one for Andrew and Chris but Chris wasn't able to make it. I initially just contacted Andrew's friends from back home who actually live in Paris, and a handful of people from School. I spent most of the afternoon prepping little "tapas" and finger foods like cherry tomatoes, olives, parmesan crisps, garlic sausage, sour cream and onion dip, guacamole, crackers, cookies, etc. Nothing fancy at all, but nice and simple. His "birthday" cake was a financier, of course. (I had been making financier's almost every night for awhile to try and get a recipe I was happy with. And I always make Andrew eat them and critique them for me.)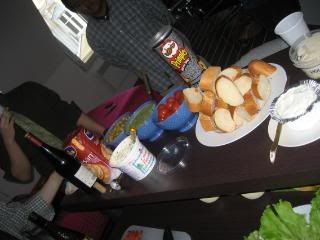 It started with just a few of Andrew's close friends.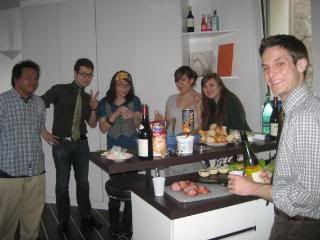 Then it escalated to a lot of people. I wasn't sure if people would show up or not but it turned out to be a pretty cool party. Here is Alex molesting Eldar. Alex's signature move at any party.
I have some evidence ! This was within the first two weeks of school when my friend, Sean came to visit (hence within an hour of Alex meeting Sean).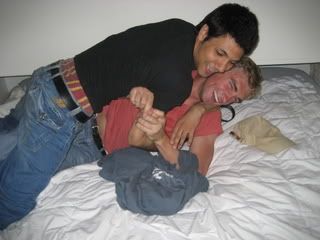 Amanda, Enyo, and Andrew in the corner. Amanda said that some French people mistook them as a lesbian couple. Gee, I wonder why ! They are quite touchy feely so the rest of the night if they hugged or something, I would always call them lesbians. ahahahha!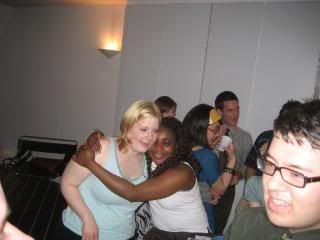 Felipe, Brian, Eldar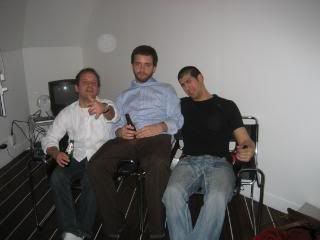 Amanda, Samantha, Alex, Chris HK
Afterwards, we headed out to the Bastille to go bar-hopping. People drank and had a good time. Andrew and Tristan were singing Queen in the streets. And Amber busted out her laptop in the middle of the street to play the Queen song that they were singing.
Andrew had a fabulous surprise birthday soirée which resulted in this:
That's him giving his best friend, Tristan a piggy-back ride.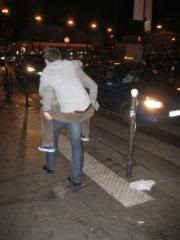 And he has no recollection of it all.
Happy Birthday !