How amazing is it that as a class, our chefs and the director of our school bring us to dine at
Lasserre
, a two Michelin star restaurant serving traditional French food. Ok, so technically I paid for it since it is included in our tuition... but I have to say that life is good =). I have been looking forward to this moment!
It was really nice to get in a dress and put on some makeup for a change. And realize that when I am not in my whites sweating at school, I am actually a girl ! Unfortunately, I decided to wear one of my most uncomfortable dresses. But that's okay. I still had a good time.
When we arrived, they served us champage and delicious hor d'oeuvres of gougères, quail eggs, and foie gras. What a way to start a meal.
Who are these people? They are... cleaned up ?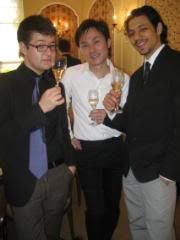 Picture time !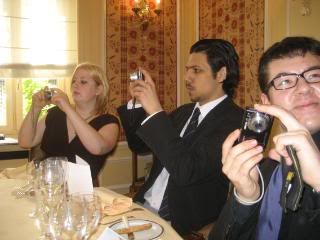 Me and Rodrigo... er Felipe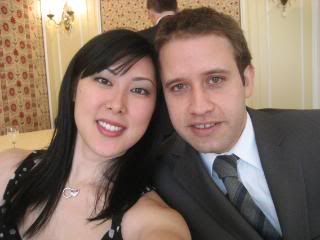 And on to the menu.
Amuse bouche - this was a type of "flan" made with asparagus and fava beans. It was a fantastic starter.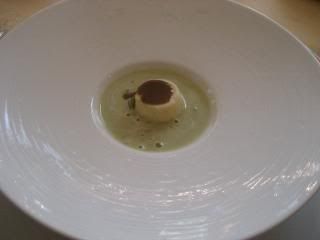 Asperges de pertuis, sauce maltaise
. I enjoyed this dish very much. I love asparagus, caramelized onions, and blood oranges.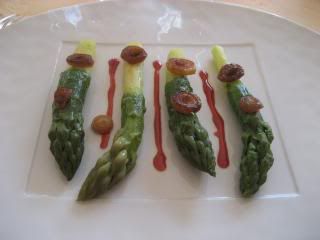 Sole à la royale et aux morilles
. This dish was fantastic. My fish could have been cooked a tad less though.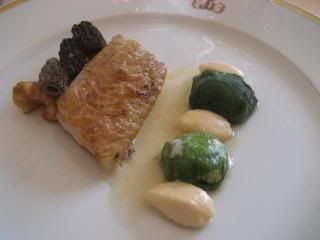 Pigeon farci André Malraux
. I was so beyond full at this point because everything was so rich and tasty, but still managed to have a few bites. My pigeon was slightly overcooked. The farci was made of foie gras. Delicious but I had Andrew help me finish this plate (as usual).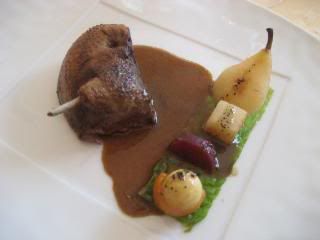 Déclinaison de pommes au caramel
. But of course I had room for dessert. I loved the ice-cream with the mousse on the left. The right dessert was good as well but a bit too sweet for me because of the caramel.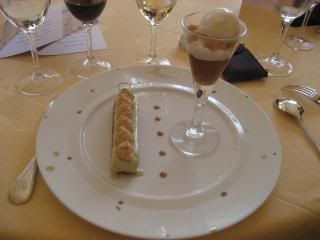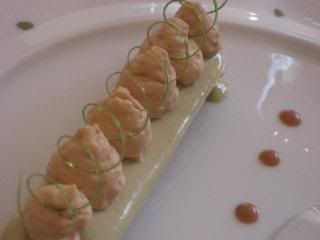 Café - look at the cute logo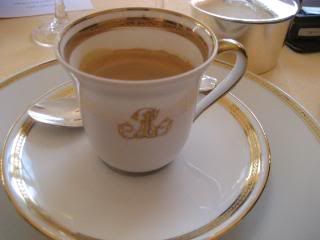 Mignardises
. No matter how full I am, I seem to always have room for dessert and mignardises ! After our meal, chef Jean-Louis Nomicos came out to say hello.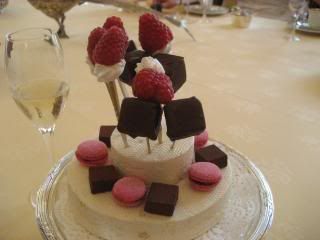 Looking sharp !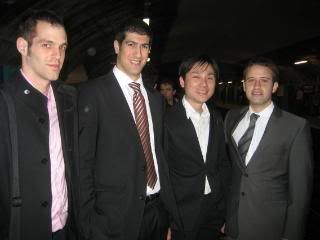 Happy and full, on our way home in the metro.
I gotta say that Lasserre does a really good job at serving traditional French food at it's best. The service is superb - they always serve the ladies first. The bathroom, however, reminds me of the 70s. Hah, but whatever, that is not important. Food comes first.
RESTAURANT LASSERRE
Executive chef: Jean-Louis Nomicos
17 avenue Franklin Roosevelt
75008, PARIS
01.43.59.02.13