I was finally able to get reservations here for Monday night - originally we wanted to eat here on Saturday but they wouldn't be able to seat us until 10pm.
On the way to dinner. HAHAHA
We didn't realize that the advertised prix-fixe menu online was non-existent until we got there. Oh well! We just ordered à la carte.
De-fucking-licious duck ravioli
Agneau de lait. To die for. This was so good. A great combination of French and SE Asian ingredients such as ginger, sriracha, bok choy (and it had a bite to it!). The croquettes were extremely delicious as well. There was a very bland white cheese on there that I could have done without, otherwise perfect.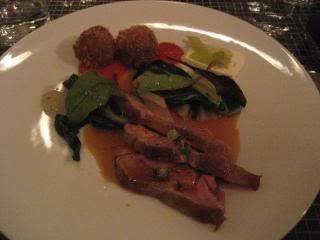 Caroline ordered the scallop special. Good shit.
Kristine ordered the chicken.
alt="Photobucket">
Caroline ordered the Lotte, or monkfish with citrus and Buddha's hand. I thought it was really good because I love citrus. Andrew, who happened to dine there the same night with his family, said the lotte was horrifically terrible. He must have gotten a bad plate !
Ummmm a really satisfying meal. I'm glad to have finally tried this place. We had previously made Panna Cotta back home, so we headed over to chez moi to have dessert and coffee.
Bon Appetit !