Springtime is the time for visitors ! Caroline, Kevin, and Kristine came to visit me for a few days. Caroline and Kristine were in Germany earlier for a week or so. We pretty much just ate, drank coffee, had a pastry, walked, then started that routine all over again. It was fabulous !
We hit up some Japanese food. Here is crazy faced Kevin and okonomikyaki. I don't think I have a normal photo of him.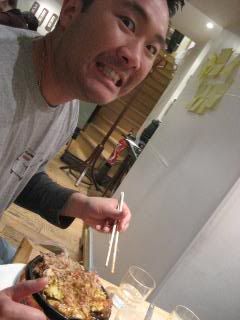 Tonkatsu-don ! This Japanese place is pretty good, considering it's Paris - Asian food isn't as good here. I still need to get the name of the restaurant. It's next to Lai-Lai Kan on rue St. Anne in the first. Good traditional Japanese food.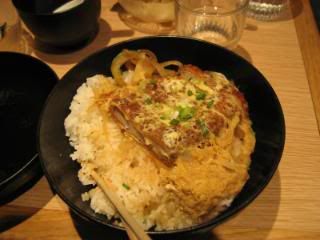 Took them to other food spots like Fauchon, Maille, Le Bon Marché... check out the water aisle.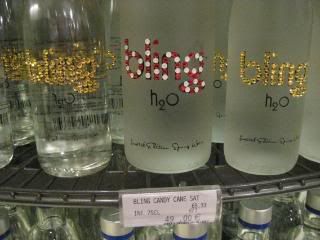 And of course, the 7 Euro chocolat chaud at
Les Deux Magots !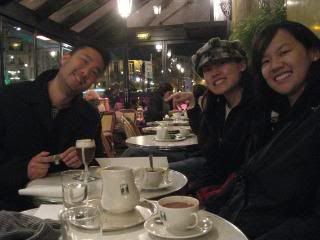 Oh and btw, I made reservations at
Au Bon Acceuil
. Small bistro next to the Tour Eiffel which serves really traditional French food. The ambiance is very dark, and more for dates. All in all, it turned out to be a disappointment which is surprising since this bistro got so many rave reviews. Potage parmentier and salads were okay. Nothing special. My terrine was a bit dry and flavorless. Everything was overcooked by 10 seconds. Literally. The fish and my veal. My veal was medium well-done. I actually sent it back ! I felt bad but I really couldn't eat it like that. They were nice enough to send me a new one that was perfectly cooked but it was lacking any seasoning. I ordered chocolate cake that was okay. The millefeuille Caroline ordered was okay. I don't really remember what Kevin and Kristine ordered for dessert. I think Kevin had some apple thing that was forgettable. So anyway, I am not going to post pictures here since I won't be going back. Bland, overcooked, and overall nothing special. Tant pis !