Tonight I decided to take my buddies to L'Epi Dupin since I had such a good experience at
Jacob's Farewell Dinner
. We all ordered the 3-course prix-fixe for 34 Euro.
Amuse bouche - carrot soup. No salt ! =( The sesame tuile was great.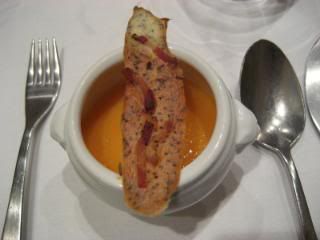 These fish croquettes with the mango and eggplant chutney were delicious.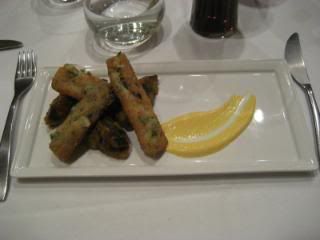 I ordered scallops with orange risotto. Again, lacking salt, the risotto was overcooked, and I was expecting more of an orange taste. But the scallops were perfectly cooked.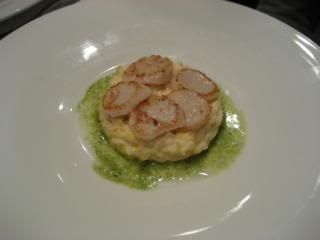 This is a beef dish that Kristine ordered. She usually doesn't eat cooked carrots but she loved the ones on this plate. They were probably cooked in a pound of butter.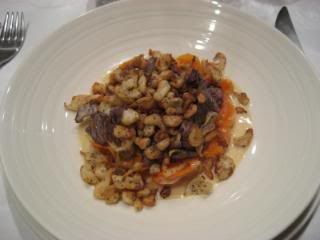 Chocolate lava cake. This was really good but it was missing ice-cream. Last time they served it with ice-cream and it had a better balance.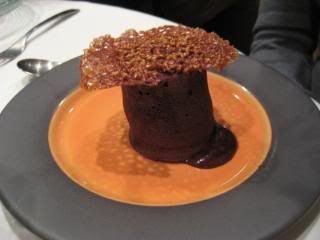 Super rich caramel tarte with coffee ice-cream. Really good but I could only have one bite of it.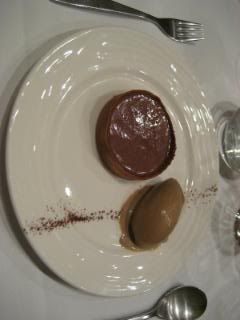 This was some kind of cooked banana dessert with cream on top. It was good as well but nothing exceptional.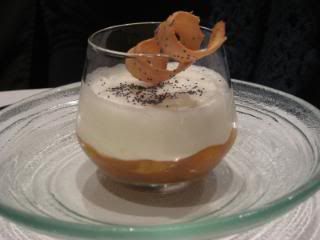 Overall, tonight was good except for the fact that they forgot to salt quite a few of their dishes. I am not sure what happened there. Perhaps a bad night? Who knows ? (Andrew dined here as well with his family this night! I think they had the same problems.) Anyway, for the most part, we were happy with our meal. They all said they preferred it over Au Bon Acceuil and Ze Kitchen Gallerie. Personally, I will still give L'Epi Dupin another chance in the future. I hope my friends had a nice vacation of eating here in Paris.
L'Épi Dupin
Executive Chef: François Pasteau
11, rue Dupin
75006 PARIS
Tel : 01 42 22 64 56