During the weekends, we tend to go a little more "casual" in our menus because many of our clients are coming in for fun, and not with vendors. As much as I love doing fine-dining, I also love doing delicious home-cooking and comfort food. (I even did fried chicken once!)
I had the pleasure today of having José (our server) show me how to make authentic Mexican food. Hilda (our dishwasher and prep) also helped with the salsa verde and avocado salsa. They are both excellent cooks - I've talked them into making staff meal a couple times. Hey, doesn't food always taste better when someone else makes it?!
Instead of bread, we fried up some chips from corn tortillas and served the two salsas with it.
Amuse bouche: Seared shrimp, spicy corn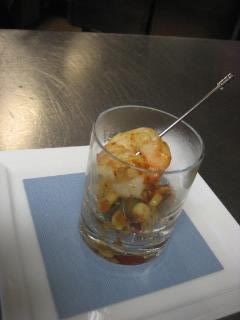 Chicken enchiladas con salsa roja (made with Guajillo peppers)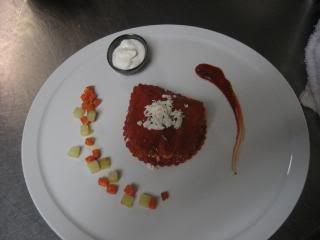 Carnitas, rice, and pinto beans. Salsa made from chile de arbol.
You must cook in lard!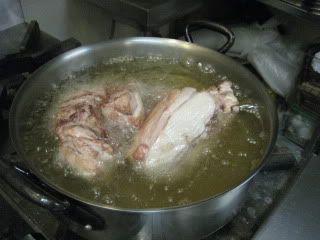 And of course, flan with rum crème chantilly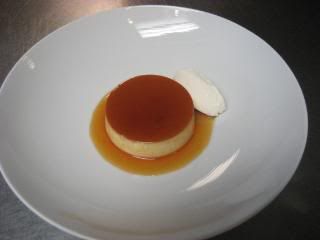 Unmolding a flan and watching the caramel oozing and dripping out is one of the most beautiful things in the world. Seriously.
I'm so happy to have clients that can appreciate both worlds of food as well. They loved it! It's always nice to come out and say hello and see them completely satisfied and relaxed after the meal... and sometimes on the verge of napping. ahhahaha. Food coma :)
After the clients left, Greg (golf pro), José, Hilda, and I dined on la comida Mexicana. It's not often that we sit down and dine together for staff meal. Actually, this might be the 3rd time since April.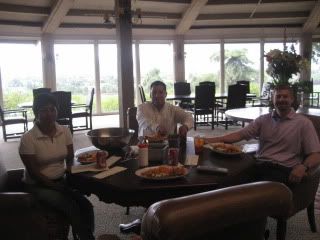 It was awesome!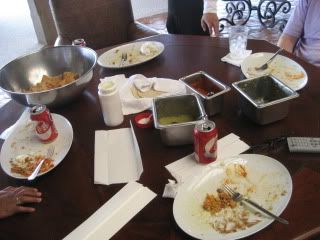 SERIOUS food coma. <3's it!