So I didn't have internet until really - a few weeks ago (nous sommes 30-03-08!) so I am attempting to update my blog starting in Sept 07.
The move went semi-well. Air France lost 2/4 of my suitcases for about 2 weeks. Good news is that I didn't have to lug anything onto the RER and Metro when I arrived. Also, I ended up buying 950Euro worth of stuff courtesy of Air France. Mostly jackets, boots, and tops since I only had my pants in my suitcases. Bad news is, Rafael had to lug two of my suitcases- and I mean huge suitcases!
My studio is 15 sq meters on the rez-de-chausee on Rue du Four in the 6th arrondisement. Nice neighborhood - shitty studio, but it is a 10 minute walk to school. The lady that let me in was 30 minutes late, and not the friendliest. A bit hard to communicate because my French is not so good. Later on, Raf and I realized that many things in the studio were broken or falling apart. But that is another story.
Dorky photo in my new shithole studio.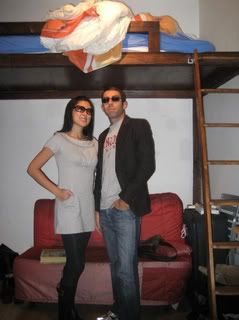 My neighborhood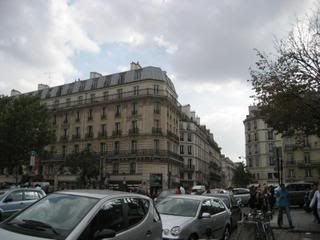 Imagine a box, then a bathroom which branches out on the side of the box. Yup, that is my studio. It's not the size I had a problem with, it was that it was in a bit of a crap condition. Later I would learn that my place would turn into the "I drank too much so I'm going to crash at Joan's place" - I fit up to 5 ppl in my place (floor included).
Here is my kitchen/laundry room/dining room/living room: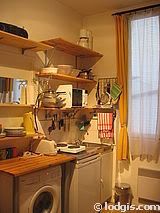 I need to give a
BIG THANK YOU
to
Raf
for going out of his way to help me move to Paris. It's going to be tough being long-distance but Raf has been nothing but supportive of all my decisions. And of course, he will benefit from me feeding him ;).
After moving, we spent our days before school walking around (shopping, courtesy of Air France, although it was a quite painful experience. By that time I was so sick of shopping but I HAD to do it since I didn't have much).
Here is my prestigious school ;)
École Supérieure de Cuisine Française - ESCF Ferrandi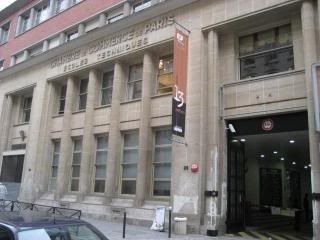 Orientation week began on 10/09/07. It was an easy week of introductions, touristy boat tour around Paris, trips to Hotels and restaurants, meals, etc. etc.
Anglophone class - we are split in two groups. Students come from the US, Canada, Brazil, Hong Kong, Turkey, Colombia, Sweden, and Israel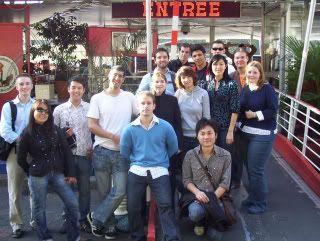 Me, Natalia(Colombia), Andrew (NorCal, ya!), Jessica(hmm... Germany/Canada/Prague, etc etc etc)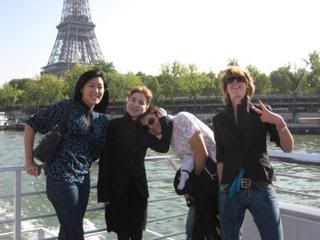 The girls. Me, Amanda(OH, US- she is from a different world/planet but we will get into that later), Jessica, Bengi (Turkey), Julie(OK, US)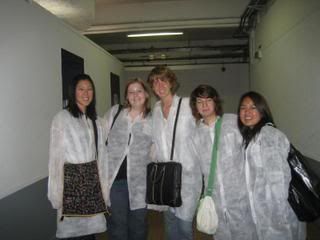 Unfortunately, Raf had to leave in the middle of Orientation week. But I had a couple visitors shortly afterwards. One being Sean from my French bootcamp class. We walked around Paris and randomly ran into a Techno Parade. It was crazy but pretty neat. The parade stretched across Paris - we ended up walking all the way to the Bastille.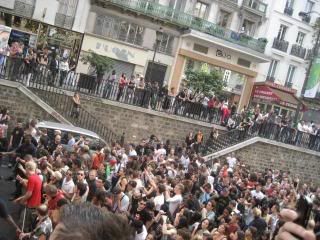 I think this was the moment Sean started to love Paris.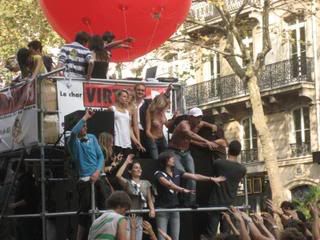 Then I brought him to a small shindig at my Brazilian's friend's studio. Look how cute the beers are.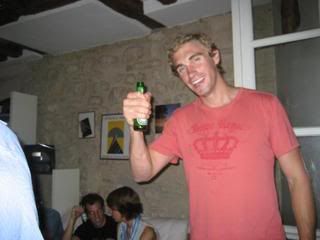 Sean, Alex(Sweden), me, Jessica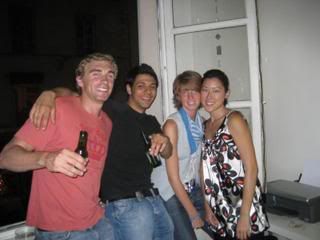 Shortly afterwards, Tanya from my French bootcamp class came to visit. She was in Burgundy for a month doing hardcore labor at a winery (internship - she is a sommeliere). Chris from Canada who has 1.5 years of Culinary school + 4 years of restaurant experience made us orange duck and pommes de terres.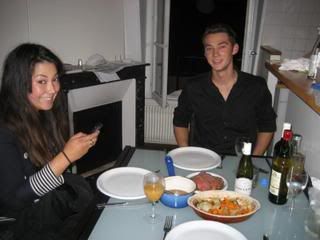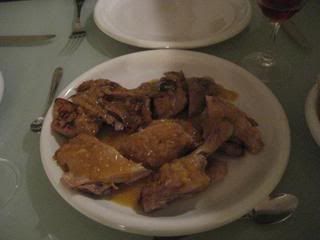 Quite a bit tipsy. Jacob from Texas is doing the Canadian dance. Many Canadian jokes were made throughout the evening.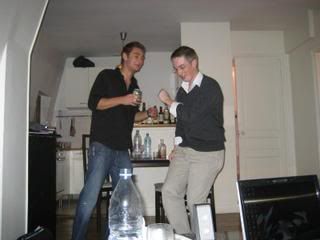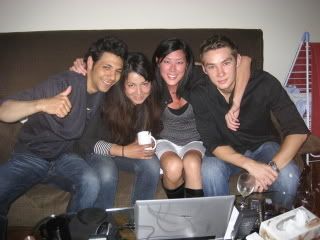 19/09/07 was Felipe's (Brazil) anniversaire.
Gift from Eldar(Israel) to Felipe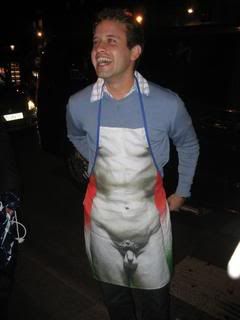 At a bar in the 18th, M:Pigalle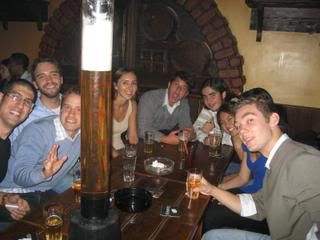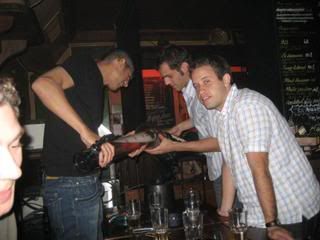 Me, Eldar(class clown, great entertainment- Israel), Felipe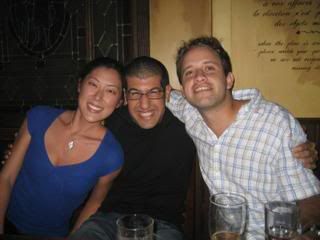 So class begins. Or perhaps my new life begins. Class photos to come in my next post.