Korean "tacos". Very hard to eat, but tasty.
Excellent bimbimbap. High quality beef.
Mediocre and dry hamburger. But nice kimchee relish. Delicious fries.
Rather bland and dry chocolate chip cookies. Korean spice flakes were a very nice touch though.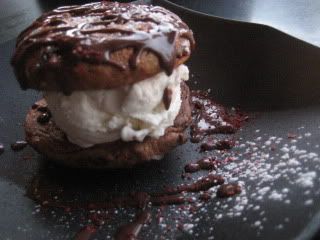 My dining partner and I met the most boring waitress known to man today. It was like she was reading off a piece of paper and about to fall asleep. They live up to the reputation of having bad service. My burger was served first, then Christina's dish 5 minutes later. Cold burger. Not to mention it took about 45 minutes to get our food. The cooks were too busy drinking booze with their friends, and just hanging around. There were only about 20 covers. My friend and I could have worked way faster in the kitchen. Although a couple of the dishes were okay, not enough for me to go back. Too bad. I wanted to like the place!
Namu
439 Balboa Street
San Francisco, CA 94118-3937
(415) 386-8332