After having poissonerie on Wednesdays, we now have Charcuterie class. Charcuterie is the branch of cooking devoted to prepared meat products such as sausage, confit, terrines, etc., primarily from pork. We have a couple of great Charcuterie chefs giving us demos.
We made a brine and injected it into the flesh of the pork. This is how the meat is cured.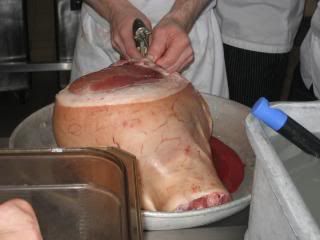 Even the head is used to make head cheese. Every part of a pig is used and not wasted.
This is head cheese, or
Fromage de tête
. It's really just a terrine made with any meat and gelatine they can extract from the head.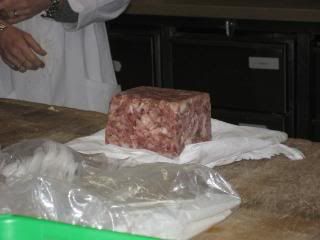 Deliciously fried pork belly.
Poitrine de porc
. How about eating that at 10am.
Now onto one thing that I can I say
I do not like eating
. Is it possible? Such a popular French classic that I find disgusting?
It starts with fresh blood - you have to get fresh pork blood that is max a day old. Quite a few of us tasted it, and well, it just taste like blood.
If I remember correctly, onions, shallots, wine, salt, and pepper were added to it.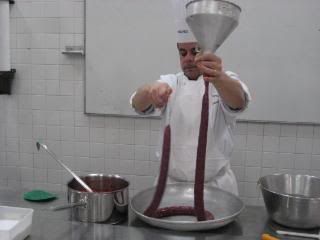 When it's cooked
The thing about this is not the taste - I mean it tastes good. BUT it's the texture. The texture is absolutely horrifying (to me). It has this gritty, coat your mouth, disgusting round in a bad way texture. The texture itself made me want to vomit. I mean, SERIOUSLY vomit. I couldn't believe that I could find something so gross. And it definitely wasn't a mental thing. Eating blood? Big deal! I am Chinese, I grew up eating chicken hearts, tripe, and pig ears. In fact, Chinese people love to eat coagulated blood (which I don't enjoy in Chinese or Vietnamese cooking, however, I can eat it and keep it down, no problem). But oh my goodness. I tried to drink water but that gritty texture was stuck in my mouth. I really felt like throwing up for the next 20 minutes afterwards. I'm really sorry,
Boudin noir
. As lovely, classic, and tasty as it can be, I just can't do it.
I went home later and told Raf about how I couldn't believe I had found something I didn't like to eat. Then he told me how he got kicked out of school in France when he was a kid because he refused to eat the
Boudin noir
in the cafeteria. Phew! I don't feel so bad now. =)
Ok so onto some better gastronomy. Restaurant Service!
Today I was assigned to a simple dish with Felipe-
Poulet Rôti, et salsifis au jus truffé, pommes fondantes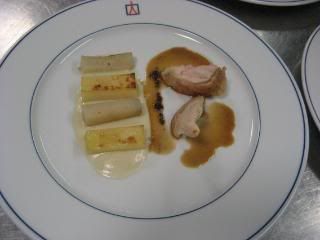 Sous-chefs for the night
Other creations of the night: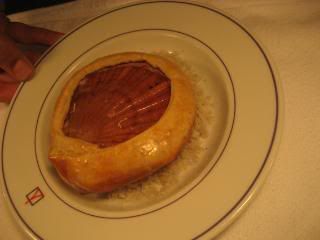 Chillen at the end of service.
At the end of service, we usually have a bottle of champagne waiting for us. Chef Stephan kindly opening the bottle for us.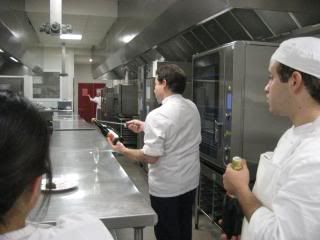 Oops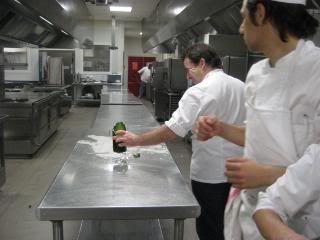 I don't think I will be drinking broken glass anytime soon.