It's so good to be home. So far, all I have been doing is hitting up my favorite restaurants. A lot of eating and spending quality time with my family and friends. I finally got to meet my new baby nephew, Zack! He's so adorable - and it's funny because he has my eyes. No one else in our entire family has eyes like me.
For Christmas eve dinner, I made a 6-course meal for my family. I am always such a procrastinator and didn't even buy the groceries until 12pm. I almost didn't find a duck but I remembered that at the Chinese markets, they always have things like duck, carcasses, bones, etc. I didn't start my mise en place until 2pm, but was able to serve dinner at 7pm.
I brought this delicious foie gras terrine I made at school back home to share. It was a big hit. Then I served brioche with saucisson, an orange salad, sea bass, duck, and an apple tarte. My family loved the meal, and ate soooo much foie gras (especially my dad, brother Huang, and brother-in-law, Rick). They didn't realize how many courses there were and ended up telling me to stop serving so much. Funny thing is that I did everything just the way I learned in school and for me, the flavor was lacking in the brioche, the stock, and sauces. I used a lot of chicken and duck bones and caramelized everything very well, but the stock was still lacking. I just think it was the quality of products here. The average butter here is not that good compared to France which resulted in the brioche was lacking that delicious buttery-ness. well. Oh and the duck I found here was sooo skinny. It was such a drastic difference for me, but at least my family enjoyed it.
Delicious foie gras terrine made with cinnamon, fleur de sel, sugar, nutmeg, apricots, dates, prunes, pistachios, hazelnuts, etc.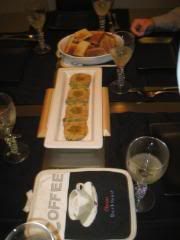 Brioche au saucisson. I served it with a port sauce.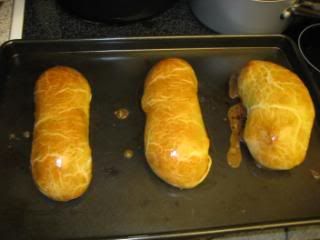 The new addition to the family! Rick, sister, Sue, and lil Zacky.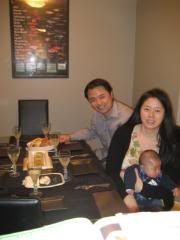 I wore my chef whites for fun.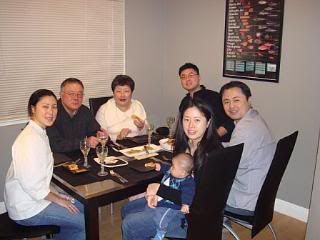 Merry Christmas !
Adorable !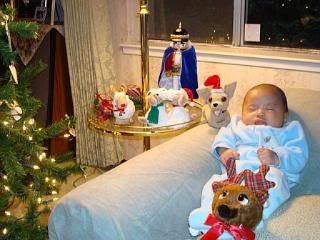 Oh I almost forgot to mention that I bought a new Kikuichi Santoku knife for chopping. It's sooo sharp, I love it ! I accidentally gave myself a tiny cut just by grazing it at the store. hahaha ! Ah, nothing like having a brand new kitchen tool. I was chopping some onions and accidentally chopped off the tip of my thumb. Oops ! It was bound to happen someday. I already had a fresh burn from school on my hand on top of my thumb bleeding through the bandaids - my family was kinda freaking out but it really was not bad. My hands are getting more and more gnarly - kitchen hands in training.
Happy Holidays ! I love my new Santoku.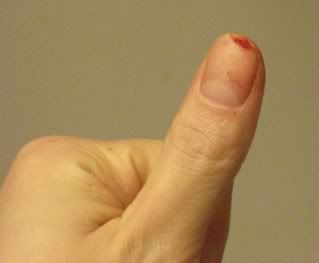 And here is a photo of
part of
our 2nd Christmas dinner - Chinese-style. My mom always makes 89734872389 family-style dishes. It's fabulous ! It's too bad I don't know how to make Chinese food !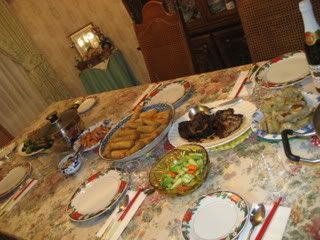 My belly has been very happy.