After our
delicious bagel
, we ventured to
Stumptown Coffee
. A hip coffee bar in the
Ace Hotel
. Based in Portland, they have a roasting facility in both Portland and Seattle. Quality coffee. Great micro-foam. Freshly roasted beans. Stumptown is another 3rd wave coffee shop who only pulls ristrettos.
The cappuccino I had was okay. I had to add more sugar to it because I found it to be a bit too acidic. More sugar than I had to add at
Joe the Art of Coffee
. Since it was a cappuccino, the nice milk foam helped. Nina didn't enjoy her espresso too much since it was really acidic.
As for the pastries, we had a palm sugar cookie and a brownie. I had asked the barista if the brownie was really sweet, or more chocolatey. He looked at me as if it was a stupid question. Well, I got the brownie anyway, and it was one of the worst brownies I've ever tasted. It was like 80% sugar, and the rest eggs, chocolate, flour, oil. Blech. Me and my friend ended up throwing it away. It was that bad.
It's a cool place to hang out. There is a bar that lines the large windows in the front. You can bring your coffee into the dimly lit, chic, and trendy hotel lobby with your laptop.
But that brownie. *Shudders*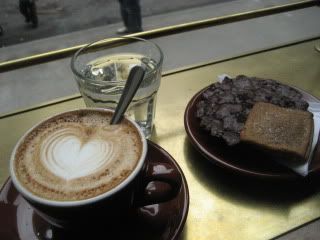 Stumptown Coffee Roasters
18 W 29th St (betw. Broadway & 5th Ave)
New York, NY 10001
(212) 679-2222