After watching Anthony Bourdain: No Reservations in New York, we were tempted to eat at
Co
. I changed my mind when my friend Aaron recommended
Keste
instead. He's eaten quite a bit around the world, and as a local in Manhattan, I took his word for it.
In a nutshell, here is a description of Keste pulled from the website:
Keste Pizza and Vino is an authentic Neapolitan Pizzeria in NYC located at 271 Bleeker Street, NYC.

It is also the official location in the USA for APN (Associazione Pizzaiuoli Napoletani whose mission is to protect and preserve the Neapolitan pizza tradition and promote the art of pizza making. The organization also certifies professional pizza makers in the tradition of Neapolitan Pizza.
They have a brick, wood-burning oven in the back of the pizzeria.
For the starter, we ordered the
battilocchio del giorno
in which the toppings change daily. I can't remember for the life of me what exactly was on this (besides the tomatos and basil), but let me tell you it was amazing !!!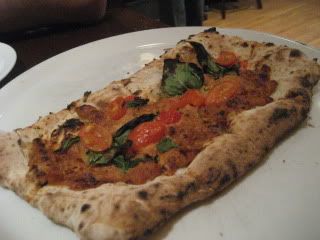 Then we shared a
salsiccia pizza
. The sausage was simple but very good.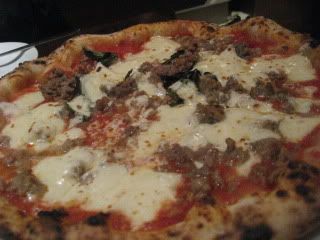 Overall, the pizza here is not greasy like at
Pizzeria Delfina
or
Mozza
. The pizza dough is perfectly cooked, and everything was very well-seasoned and tasty. Keste sticks to being authentic - the flavors are simple, true to their roots, and very delicious. Next time I will try the margherita by recommendation.
Keste Pizzeria & Vino
271 Bleecker Street (between Morton St & Jones St)
New York, NY 10014
(212) 243-1500