It's time for second dinner !
Mozza caprese and Bruschette of Chicken livers, capers, parsley & guanciale. Both were fantastic. I'm not a big fan of chicken livers but this was absolutely delicious.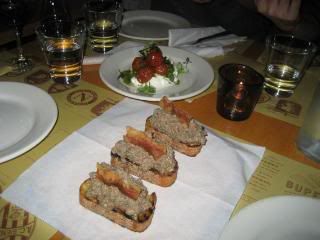 I told Miki and Andrew to order for me. I was surprised with this: Squash blossoms, tomato & burrata. The burrata is so good here. And I love squash blossoms !
Miki's pick: White anchovy, tomato & Fresno chiles. Anchovies were very nicely done. Another recommended pizza.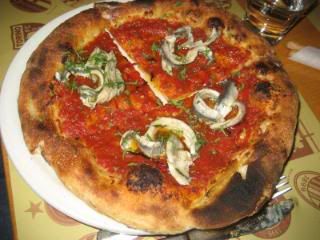 One of their signature pizzas: Fennel sausage, panna, red onion & scallions. This was probably my favorite of the night. The home-made fennel sausage is so delicious. Everything went very well together. I totally forgot what wine we ordered, but it seriously was a match made in heaven.
Last, but not least, dessert!
Caramel copetta with marshmallow sauce & salted Spanish peanuts
Butterscotch budino, Maldon sea salt & rosemary pine nut cookies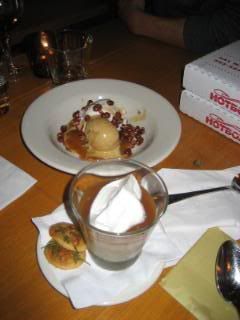 The butterscotch budino was fantastic. I was expecting it to be overly sweet, but it wasn't at all. It was a perfect balance of a dessert. Had I not eaten the entire day away, I could have eaten this all by myself. The rosemary pine nut cookies were fabulous as well.
Despite 3 out of 4 pizzas being a bit overcooked, everything was very good. The flavor combinations worked, and I loved their use of ingredients. Great way to end the night.
Mozza Pizzeria‎
641 N Highland Ave
Los Angeles, CA
(323) 866-5300