Flew down to Los Angeles this weekend to hang out with Miki, Joel, and Andrew. Miki kindly worked on a "meal plan" as I'd like to call it. Since I was really only there for a day and a half, we had quite a lot to eat.
First stop after the airport,
Ramen California
. 32 year-old Shigetoshi "Sean" Nakamura is the creator of this joint - he is considered one of the top four ramen gods in Japan. Pretty cool!
Rosemary bread that reminded me of fried Shanghainese bread. Different, but good.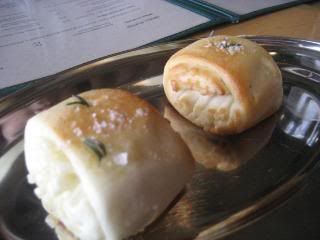 Halibut carpaccio - the usual.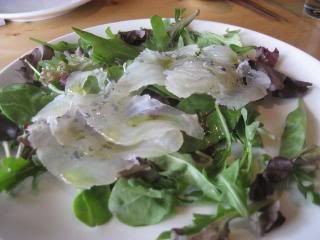 Charcoal cha-su pork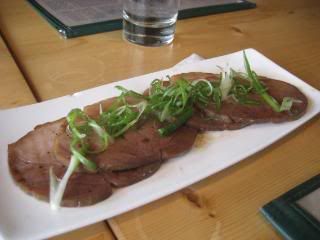 The great thing about this place is that they sell small bowls for $5,50 which gives you the option of trying different flavors. We all shared the following which was their version of shoyu ramen. It was a mix of fish broth, chicken broth, and shoyu. It had a nice dense flavor, closer to traditional ramen. The pork was nicely cooked, and the egg was perfectly cooked. I wish all ramen joints in the US would cook their eggs like this.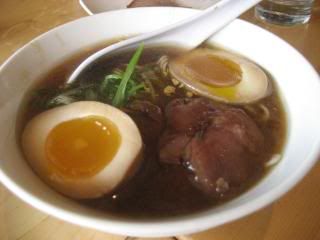 I opted for one of their signature ramen's - Ramen California. Nice, clean chicken broth, freshly made noodles, and 30 different types of seasonal vegetables. The vegetables were cooked just the way I like - al dente. This was definitely far from traditional, but I enjoyed it very much. Nice and light.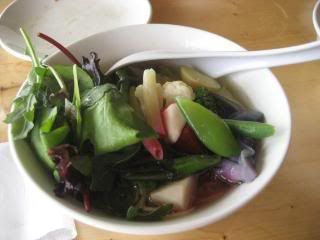 Andrew ordered another signature ramen - Reggiano Cheese Tofu Ramen which is seen in the spoon. This was also served with chicken broth. The combination of the broth with the tofu cheese was fantastic.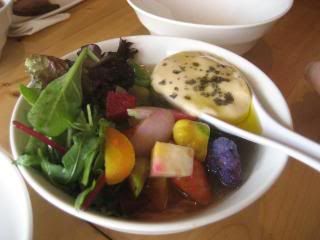 I'm such a hardcore traditional ramen fan, but I really enjoyed this place. It's great to have the option of a light soupy ramen versus a heavy, ramen. Will definitely return. Good choice, Miki !
Andrew and I are reunited once again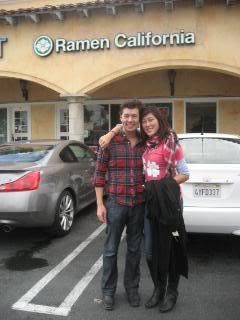 Ramen California‎
24231 Crenshaw Boulevard
Torrance, CA‎
(310) 530-2749‎