After California Ramen, Miki drove us to Little Bean, a Chinese boba/pearl tea shop. This is the only place Miki likes to get her balls. And it took an hour to get here. Must be good. =)
It was pouring rain, so I opted for a warm,
hong do nai-tsa
, or milk tea with red beans. The milk, tea, and sugar were nicely balanced. The red beans were perfectly cooked and seasoned. The balls were nicely cooked and delicate; not as chewy as you may find in the Bay Area. Good flavor to them as well.
Miki opted for the lychee pearl tea, and the regular milk tea.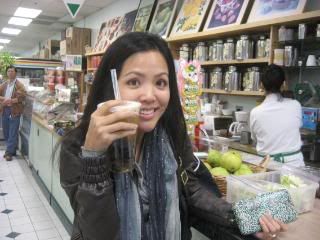 I happened to walk by the kitchen and see them just drain freshly blanched taro root.
I have a huge love for taro
. I came out and mentioned the wonderful smell of taro that I had just witnessed. Andrew decided to try the taro smoothie. I was a bit hesitant of having a blended, iced taro drink, but...
It was GREAT. So great that Miki bought a third one. hahahah.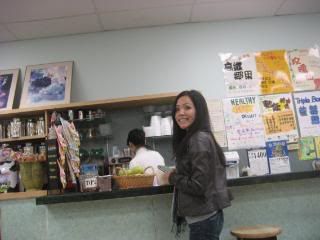 In addition to great ingredients, and a
clean kitchen
, the
Chinese ladies here are so nice
! AND they will remake your drink if you don't like it without any hesitation. I mean, that is unheard of. At a Chinese place. Really! What a pleasure it was to get balls here.
Little Bean
18902 Norwalk Boulevard
Artesia, CA
(562) 860-8843‎