I finally made it to a free Cupping at
Barefoot Coffee Roasters
. For those of you who haven't been there, it's a café and roastery located in Santa Clara. I believe they have another one in Palo Alto as well.
We arrived 45 minutes early so Luigi and I decided to grab a pot of Green tea "
Tuo-Cha
" (which was just okay taste-wise, IMO) and a rasberry brioche donut made by
Satura Cakes
which was decent. (
Satura Cakes
makes a mean
Kouign Amann
though ! Practically better than the one I had in Britanny. Oops, did I just say that?!)
Shortly, we started the cupping. Ummm more caffeine !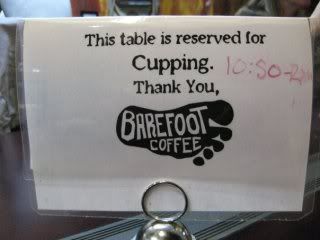 Here is Steve, the barista (o?) who is in charge of the cupping demos.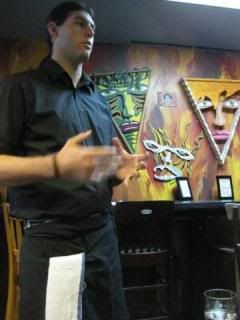 We were given a blind tasting. He prepared three different types of beans.
The
silver cup
was filled with lightly roasted beans from
El Salvador
. Apparently it was sweet and savory with hints of sun-dried tomato. (I am not there yet. I just know I found it too acidic).
The
blue cup
was an
Ethiopian Sidamo
- arabica beans noted for it's bold spice, chocolate, and/or floral aromas. I preferred this most because of the more bold and woody flavor and less acidic taste. But unfortunately, I haven't been blown away by any coffee here like the espressos I've had in Italy.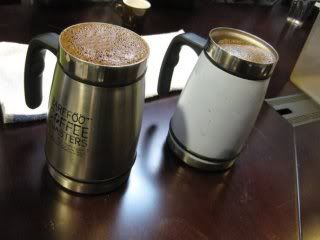 The
green cup
was filled with a
decaf Sumatra
which I found to be nicely balanced yet a bit bland with a short finish. Apparently it had floral hints of lavendar (again, not there yet).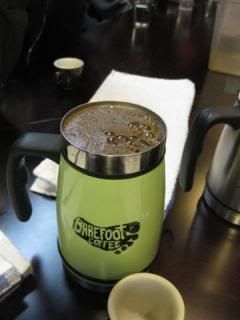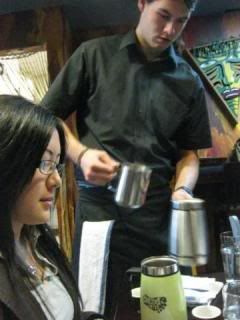 Luigi !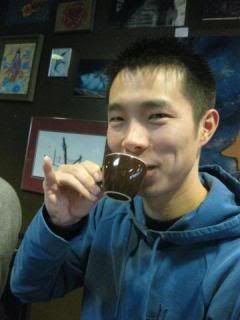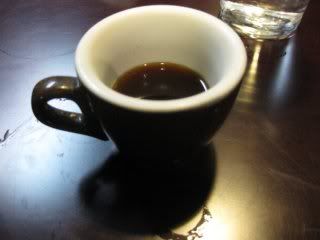 I've always loved coffee and really want to learn more about it. (Had my first cup when I was 11 !) This cupping demo was a lot of fun. I liked the fact that Steven decided to do a blind tasting first as to not be influenced by the type of bean. Will be stopping by more often.
Barefoot Coffee Roasters‎
5237 Stevens Creek Blvd
Santa Clara, CA‎
(408) 248-4500‎