After all these years, and hearing about all the hype, I finally made it
Chez Panisse
with
Aaron
.
Pizzetta with creme fraiche, roe, chives, and scallions.
I am normally not a big fan of roe but was interested in how this pairing on a pizza would taste like. It was a good choice. The pizza dough here is really tasty and the non-traditional ingredients together were great. I loved getting a bite of potato, cream, and a lil roe. Who knew after all these years, I have (almost) acquired a taste for big roe. (Still waiting for that to happen with raw oysters... *gasp*)
Grilled Laughing Stock Farm pork leg with sauteed greens, olives, and potatoes.
This was cooked to perfection. Seasoned to perfection. So delicious. I thought I wouldn't be able to finish it all, but I did. LOVED it.
Aaron got the fried rabbit.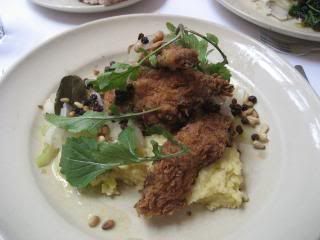 Not your typical soul food, but fantastic.
Pink Lady apple and quince tarte with fresh whipped cream.
To me, a tarte is a tarte. I have only been blown away by one
tarte de fruit

s
that I've had in Bordeaux. Not to say this wasn't good, it certainly was a tasty apple and quince tarte. I loved the whipped cream.
Overall, I think that
Chez Panisse
has definitely lived up to it's name. Fantastic fresh and local ingredients. Uncomplicated food. Seasoning and cooking is to perfection. Service at the cafe is casual and friendly.
When I walked back to my car, I was welcomed with a parking ticket. But after a nearly 2,5 hour filled with foodie conversation paired with delicious meal, I wasn't feeling as bad as I normally would. (Well, until I realized I could have used those $30 for another lunch at Panisse... And I guess it's been a good 12 years since I really hung out in Berkeley. Is it me or did they really clean up the place???) Anyway ! Can't wait to go back for dinner.
Chez Panisse
1517 Shattuck Ave
Berkeley, CA‎
(510) 548-5525‎