Made an attempt to recreate a favorite meal that Rafael and I often feast on at
Evvia
. Very simple food, but delicious.
Lamb loin chops marinated in olive oil, garlic, thyme, and oregano.
Unfortunately, I don't have a charcoal or mesquite grill.
Olive-oil roasted potatoes. Crispy on the outside, creamy on the inside.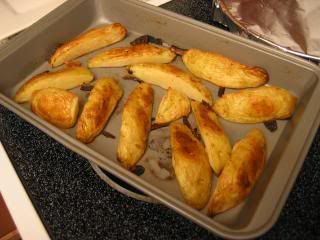 Galaktoboureko
And finally...
Unfortunately, I haven't mastered Carlo's fancy digital camera... but you can get an idea here
And Galaktoboureko =)
For the most part, everything turned out pretty tasty. In the future, I will add more herbs to the lamb, and change to semolina flour in the Galaktoboureko.