I had interviewed with
Kaygetsu
last year for a line cook/hot foods position. I was able to see the back of the house (which is great, by the way), however, I had never officially eaten there until tonight (FINALLY!). With several postponements of this reservation, my sister and our other friend, Elva, finally made it tonight for the
kaiseki
.
Sakizuke
(starter):
- spaghetti squash salad with string beans
- red bell pepper, shiitake mushroom and micro shiso
- black sesame flavor, topped with dried bonito threads
This was a great starter. Light and refreshing.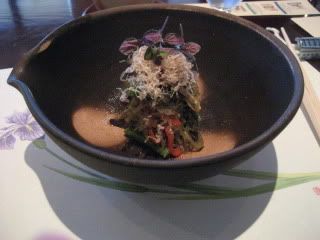 Sashimi:
(upgrade)
octopus, hamachi, toro
Um, YES. They do live up to their reputation as having some of the best sushi in town. Fabulous, fresh, melt in your mouth sashimi.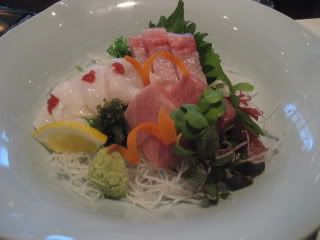 Hassun (assortment of flavors):
- washu beef sushi, nori topping, oak leaf
- seared white tuna, carrot daikon, warabi fern, ponzu gelee
- julienne potato and carrot tempura
- burdock rolled with anago (sea eel)
- rolled egg omelet, topped with uni
- sautéed konnyaku (yam jelly)
This was a great assortment of small bites. I wasn't a big fan of the yam jelly or tamago with uni, but going back and forth between the potato/carrot tempura and seared tuna with ponzu gelee was very nice. The washu beef sushi was to die for. I absolutely LOVE raw beef sushi. In fact, it was the first thing I ate during my first trip to Japan when I was 15. I could have just eaten a plate of the lightly seared washu beef sushi here. Wonderful!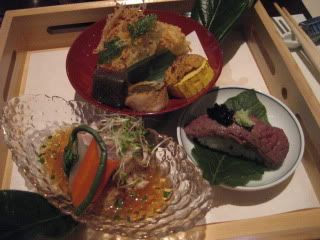 Seasonal dish:
- eggplant, flash fried and cooked with dashi
- minced shrimp with thickened kudzu sauce
- sugar peas, tororo konbu
This is the first time that I've tasted tororo konbu, which is seaweed that has been soaked in vinegar for a day before being shaved into fine flakes and dried. The texture was wonderfully light, but at the same time, full of flavor. The combination of eggplant, shrimp, dashi and kudzu sauce was nicely balanced. Another dish that we all enjoyed very much.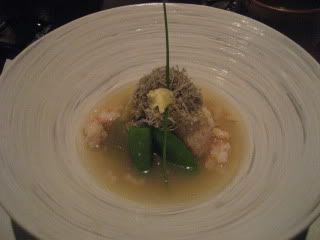 Yakimono
(grilled dish):
- organic petaluma chicken with fuki (butterbur) miso
- spring salad with bamboo, bakchoy, radish, orange, chive and chervil
- side of clear miso soup, pickled vegetables
Let me just point out that I typically don't order chicken dishes (aside from at Commis restaurant). What a difference free range, organic chicken has. Some of the most moist, tender, perfectly cooked and seasoned chicken that I have had since Commis. I loved this dish, though I was too full to finish the clear miso soup.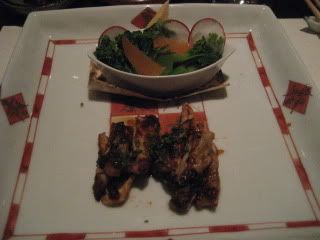 Dessert:
green tea bavarois with Okinawan black sugar molasses, red bean, strawberry, mint and whipped cream
The dessert was alright. I found the Okinawan black sugar molasses quite interesting. But give me anything with matcha green tea and red bean, and I am a happy girl.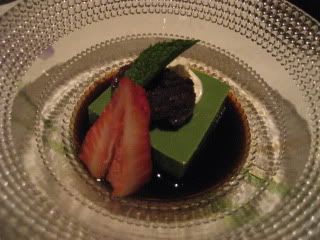 I found this meal to be very well-balanced, and "light" even though I was pretty full by the end of the meal. The kaiseki here sticks to it's Japanese tradition and roots. I'm glad to have finally dined here. Highly recommended.
Kaygetsu Restaurant‎
325 Sharon Park Drive
Menlo Park, CA
Tel: (650) 234-1084‎