It's been awhile since I had Ethiopian food. In fact, I haven't had it for almost 6 years when I was an undergrad at Santa Clara University. And the restaurant I dined it was forgettable so I don't think it was the best place to judge Ethiopian cuisine.
Zeni
, however, has a great reputation by my foodie friends as well as their Ethiopian friends. For lunch we dined on the following:
SAMBUSSA
- deep-fried thin dough shells stuffed with lentils, onion, hot green & herbs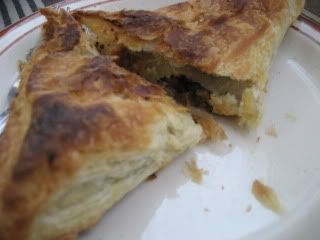 Injera - unleavened bread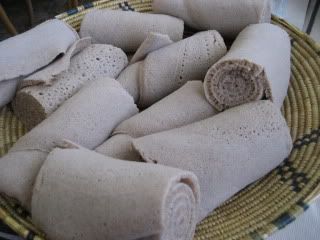 MEAT COMBINATION
- A combination of
Alitcha Fitfit, Doro Wot, or Key Wot and Beef Kitfo, Home made cheese
VEGETARIAN COMBO
- A combination of
YE-MISER WOT ,YE-KIK ALITCHA, ATAKELT WOT, YE-GOMEN WOT, YE TIMATIM FITFIT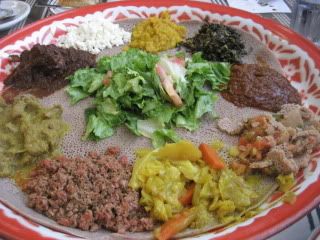 I have to say that I stuffed myself silly today with all that delicious spongy bread, sauces, braised meats, and vegetables. Though I can't exactly match up all the Ethiopian names to the dishes [yet], everything I tasted was great - my favorites being the lamb, spicy split peas, greens, and chicken. Miam miam.
Zeni Ethiopian Restaurant‎
1320 Saratoga Avenue
San Jose, CA
Tel: (408) 615-8282‎