On my way to run errands this morning, I finally walked by
Sunstream Café
which is this teeny tiny Brasilian café close to my apartment in San Francisco. I had heard decent things about it.
I checked out the menu and they had all kinds of tropical fruit juices found in Brasil. They even had caju and graviola juice, but unfortunately they are not fresh squeezed and in fact frozen. Also $5/each. They do have the acai with honey and granola. I want to try that next time.
I had this seriously soft, moist, and delicious coconut pastry. I ate it fast before I could take a photo.
And of course, a
conxinha
! Although different from what I had in the North of Brasil, it was still very good. I believe instead of the
catipury
cheese, they put cream cheese in it. The chicken was very moist and seemed to have been braised in a tomato based sauce.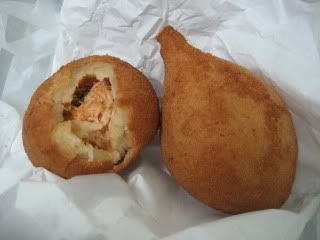 Sunstream Café
2884 Geary Boulevard
(between Collins St & Wood St)
San Francisco, CA 94118-3408
Tel: (415) 567-5330