Miki brought us to dine at
Animal Restaurant
for dinner. I wanted to see what all the hype was about. Unfortunately I do not have a professional camera - the lighting was quite terrible for your typical point and shoot camera so I had to borrow some photos that I found on the web. Here is what we ordered:
Chicken liver toast
- I am not a big fan of chicken liver, but when done well, it can be delicious. This, for me, was not very good. The liver taste was STRONG which could be due to overcooking the liver before making it into a paste.
Photo credit to
Kevin Eats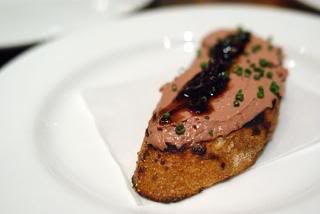 Rabbit loin, benton's bacon, pickled apple, cipollini, butternut squash
- I am pretty sure the cooks accidentally set the rabbit loin on fire when they were searing it in the pan. It tasted of gas, and had a very strange flavor, although I have to give them props for the wonderful texture and juicy cuisson of the rabbit loin. But yah, I'd skip it.
Photo credit to Anthony Ngo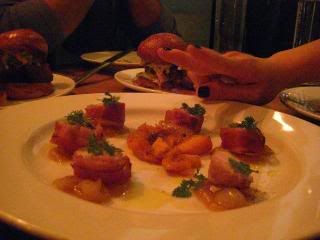 Pig ear, chili, lime, fried egg
- loved loved loved this!
Photo credit to
Kevin Eats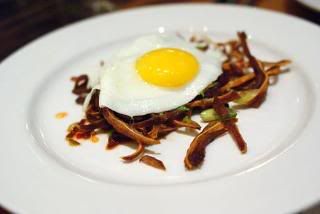 Barbeque pork belly sandwiches, slaw
- this was really fantastic, but a bit too sweet due to the brioche and sauce.
Photo credit to
Kevin Eats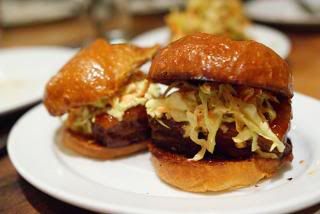 Baby broccoli, pancetta, parmesan, soft egg, bread crumbs
- GREAT dish. Well-balanced and great use of vegetables.
Photo credit to
These Things I eat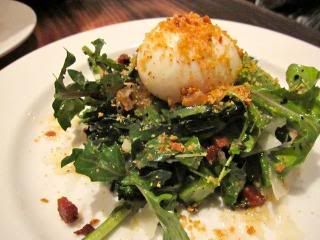 Poutine, oxtail gravy, cheddar
- a Quebecois diner staple. I quite enjoyed this dish. Very tasty. Loved the meat on top.
Photo credit to
Kevin Eats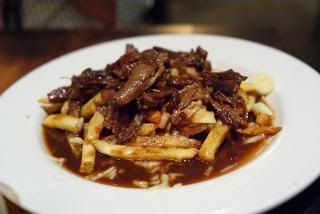 Foie gras loco moco, quail egg, spam, hamburger
- one of Animal's most popular dishes. I loved it. It was so Hawaiian. Great use of sweet teriyaki sauce and sriracha. LOVED the use of baby basmati rice. Now only if they served this everywhere in Hawaii...
Photo credit to
Kevin Eats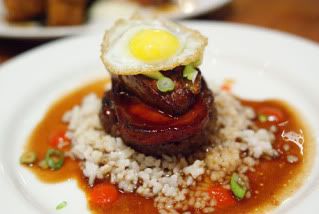 Overall, I'd say Animal is a great place to dine. Lively, casual, and fun atmosphere. We all had a great time tonight despite the fact that someone got shot next door to us. (Welcome to El Lay).
Animal Restaurant
435 N Fairfax Ave
Los Angeles, CA 90048
Tel: (323) 782-9225