Our last day in Bordeaux. Raf went running at a park nearby. It was an awesome park where you could fishing. THere were always castle remnants all over the place, caves, geese, duck, muskrats, etc. etc. Unfortunately, we didn't bring our cameras the first day, and everything was blocked off the 2nd. They had this one particular, super cool man-made castle where you could go exploring. There were hidden caves, holes, and paths throughout. Raf and Manny used to play there as a kid.
Anyway, here is Raf after his run. We would have brioche, coffee, and OJ for breakfast every morning. UMMM brioche. J'adore le beurre !
We had to catch the train back to Paris around 1pm. Mami, Papi, and Oncle came with us to the train station where we had some more coffee and hot chocolate. We got back to Paris around 4pm. By this time, I had decided that I wanted to apply to
Ferrandi
. I just got a great vibe from them so we rushed to the school, backpacks and all to meet up the the Admissions director again. When I got there, she graciously asked one of the chefs to sit down and talk about the program with me. This turned into a 45 minute meeting (poor Raf had to wait outside!). He showed me everything from the curriculum, to recipe worksheets, to their cookbook (the
bible
as he called it). Everything is in French, however, the courses are taught in English and French (with an English translator). It's funny because even though he was speaking English, he kept saying
"Bon, Alors"
before he would begin another sentence. HAHA! Anyway, they are very thorough and really care about the students! It was nice. =)
Afterwards, got back to the hotel and settled in. We decided to eat at Chez Julian, a restaurant I found in a book as a very good restaurant that locals go to. It was around the corner close the Derya.
This terrine was EXCELLENT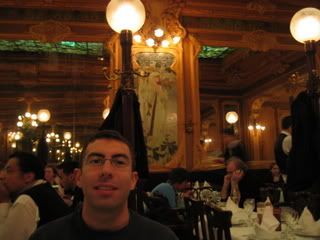 Salmon - I liked this better than the trout
Trout
Profiteroles - we thought these were okay. Our favorite profiteroles were what we had at Cafe du Commerce.
Overall the food was very good and nicely prepared. Tomorrow we would have to catch a flight back home.
A bientot, Paris !