Today we went to check out Lenôtre Paris... but it was NOT in Paris, but in Plaisir Cedex (super duper suburbia). We had to take the subway, then the RER, then a bus to the school. It was cold and rainy - the day I decided to not wear socks with my new shoes which weren't broken in yet and hurt my feet. It took us a lot longer to get there - something like 2+ hours! We were cold and wet in the rain that we forgot to take pictures of the outside. Well, we forgot to take pix of the other schools as well. I think I was too nervous or worried or something.
When we arrived, we actually bumped into the same Taiwanese cook that was touring Ferrandi. ahahah! He actually was a cook in a French restaurant in Taiwan with 6 years experience, however, he had only been studying French for 6 months, and doesn't speak English. Anyway, we were about an hour late again so we missed the tour. The original admissions rep that was supposed to take us around had someone else take us for a quick tour.
Test time
I ate one of these... citrus custard tarte. We were welcome to just pick pastries/croissants off the trays and eat them.
Sucre!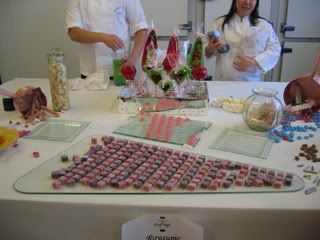 Presentation for plated desserts - the ice-cream is actually butter (so it won't melt)
Overall, Lenôtre has been mainly noted for their pastry programs. They do cuisine, however, I just felt that there was too much emphasis on pastry. Most of the courses they offer are in pastry as well. Plus one of the admissions reps was impatient and seemed like she didn't want to help or answer questions - I wouldn't want to deal with her if I attended.
After the tour, we left and ended up on the wrong bus. We were on there for a long time - like 30+ minutes! So the bus driver was like "you have to pay twice since you haven't gotten off yet!" He told us he was taking us to the train station but got confused on which one. He ended up dropping us off at the correct bus stop to wait for the next one. In total, we probably wasted about 1.5 hours in the freezing cold/rain, at the bus stop, and on the bus. It was such a bitch to get back to Paris. The buses come either every hour or every 20-30 minutes. At the RER station, we were confused on which train to take, but ended up on another local train (not the RER) that finally got us to Montparnesse. Ughhhh what a hassle! That made me not want to go to Lenôtre ever! hahaha.
Montparnesse where I almost fell on these rolling balls attached to the moving floors (don't know what it's called)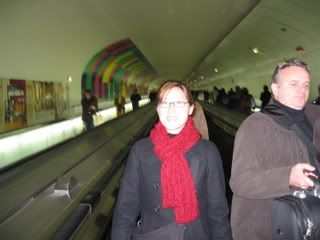 In Saint Michel going to boulengerie we used to frequent a lot when we stayed at Timo's. We bought flan, croissant, and a tarte de framboise for breakfast the next day.
Mais non, Monsieur ! C'est jeudi, aujord'hui !
(Inside joke)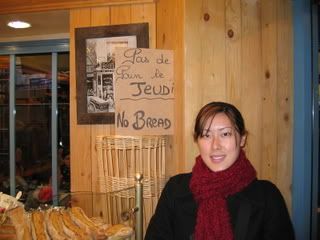 On our way back to the hotel. Yay, peaceful riot! Someone was holding a sign saying that a certain mayor candidate is just like BUSH. HAHAH!
Outside our hotel
We went back home, warmed up, and settled in a bit. The district where we were staying was known for some great Turkish and North African restaurants. Earlier I emailed L'Erhan on some good Turkish restaurants. Turns out he knew a few that were literally around the corner. Awesome!
Derya - Kurdish/Turkish restaurant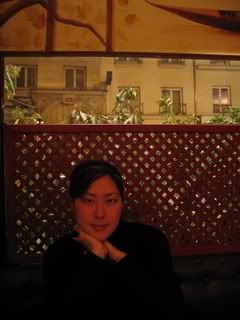 Turkish beer
Mercimek? Turkish lentil soup - GOOD!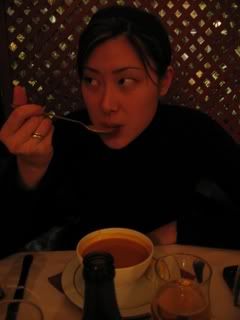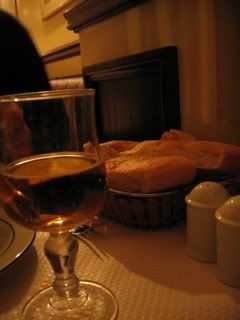 Adana Kebab (I think)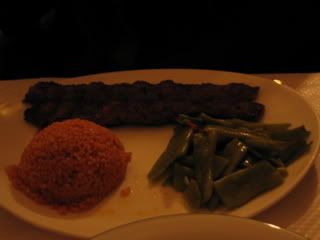 I always have to order Turkish rice pudding
Ummm... Turkish tea... or Chai hehe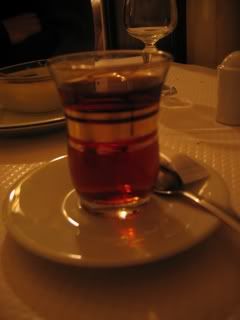 This place was yummy! There is actually a Turkish restaurant that L'Erhan brought us to in Menlo Park back home. That one is hella good too, pretty comparable, but the one in Menlo Park has other dishes that Derya unfortunately didn't serve (like "Turkish pizzas" - don't know the name)
And of course, a foreign stray kitty
Mini-arc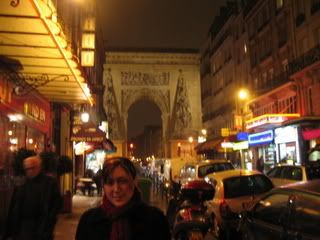 Long, cold, and rainy day. Was fun though - time to catch another train to Bordeaux tomorrow!