First of all, *#&$#*$ Blogspot for erasing my entire post just by having me login. WTF!!!
Ok, anyway, today we got into Paris around 7am after a stop in DC. Two long flights - but I think I am getting used to flying. I wasn't too tired. But it only took us 1.5 hours to get our luggage. And I thought the US was slow. Quite a few ppl traveling with animals. A lady next to us had two cats with her, and at the airport I could hear a few dogs barking.
We stayed at Liberty Hotel (16, rue de Nancy, 75010 Paris). It's a nice little budget hotel. Very clean, safe, close to two metro stops (Strasbourg and Gare de L'est). The staff there are extremmellly accomadating and friendly. Definitely better than your Motel 6. We were on the 5th floor and of course, there was no elevator. We were pretty tired but still was able to make the hike with our backbacks. We had a shared room (and bathroom) for the next three nights and unfortunately, the bed sucked really bad. Reminded me of my childhood bed that I used from ages 5-17. Ouch!
Obscure Parisian hallways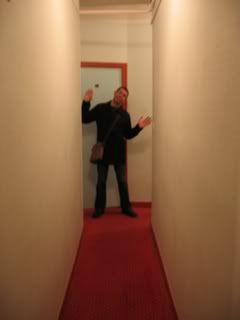 Gotta love the character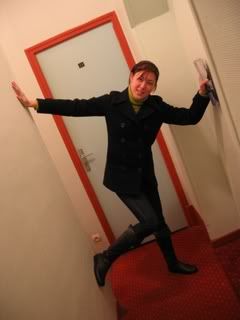 We took a long nap, and then made our way to the Ritz. It was located in the 1st arrondisement. It's a small school, with only two kitchens used for teaching (1 for cuisine, the other for pastry). Seemed like most of the students were male. After each segment of classes, you get an internship in the Ritz Hotel kitchen.
After the Ritz, we went to check out the Alain Ducasse school. Unfortunately, they only do day classes and don't really have an organized culinary program. Afterwards, we walked around the shopping district in the 1st. I got two cheap pairs of ballet flats. 10 Euro each - yay! It's been awhile since I bought something for myself so it was nice. We also walked by a boutique where these two little dogs (terrier breed) were in the window. At first we weren't sure if they were real. But then they started playing and barking. So cute - it was Mama dog with her puppy! Only in Europe do you see dogs in bars, restaurants, and boutiques. Adorable! We had pix/video but it got deleted somehow.
Afterwards, we walked to Saint Germain des Pres and ate at a random bistro. Ordered confit de canard with potato cake. Then we made our way to
LES DEUX MAGOTS
! Hot chocolate and vanilla bean ice-cream. I ordered in French but the dood didn't understand me. I think he was just pretending. Anyway, it was a fantastic dessert. Unfortunately, the wonderful pix got deleted as well. We then called it a night.