A big thanks to Luigi for many of the pictures!
Salted edamame
Mystery ingredient use: edamame!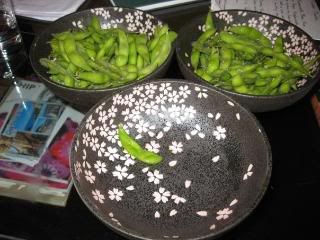 Oeuf À La Toque, crispy potato strings
Mystery ingredient use: linguica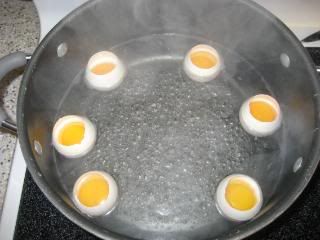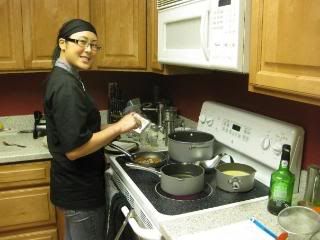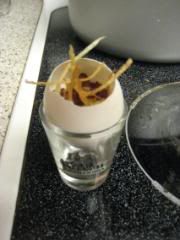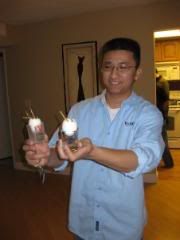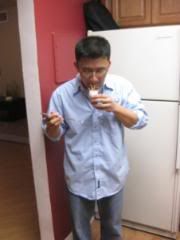 I didn't have tiny tasting spoons so everyone had to use fondue forks. haha.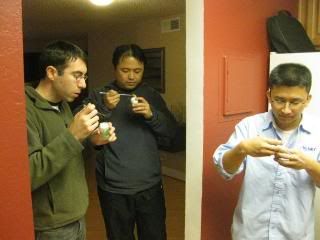 Faux crab, rutabaga puree w/ a dash of cardamon and cayenne. Lime juice and zest.
Mystery ingredient use: FAKE crab! Coconut milk. Rutabaga.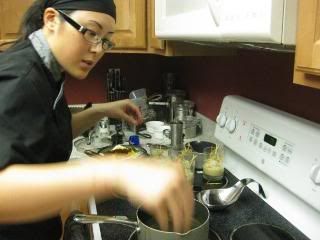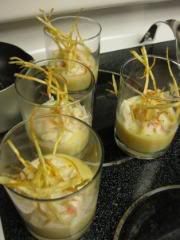 Grilled Sanma with sweet soy, galanga (A traditional Japanese dish called Sanma-no-shioyaki)
Mystery ingredient use: Sanma fish, of course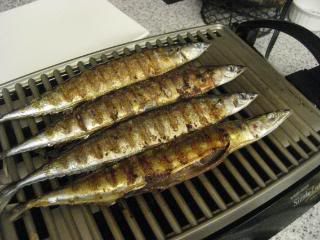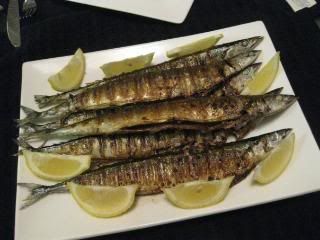 Shaking "lamb" (Vietnamese style - came up with this at lunch when I was eating shaking beef with Diana) with oyster mushrooms cooked in lamb sauce.
Marinade: soy sauce, galanga, garlic, lemongrass, sugar, fish sauce
Mystery ingredient use: Lamb shoulder. Oyster mushrooms.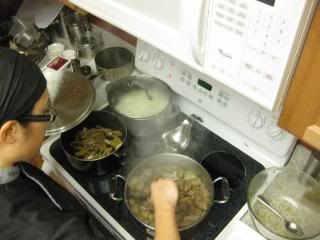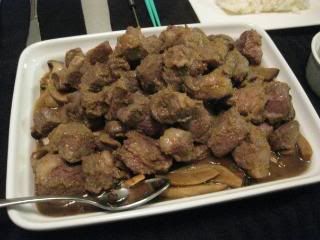 Traditionally, it's dipped in a mixture of lime juice, salt, and pepper.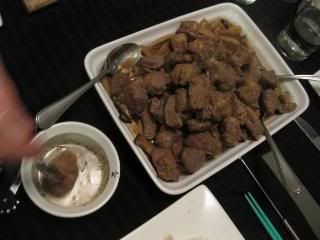 Tapioca in coconut milk with Anjou pears.
Mystery ingredient use: More coconut milk.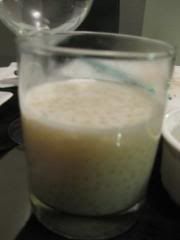 Strawberries and mint dark chocolate chip cookies for pre/post dessert. I wanted to make dark chocolate covered strawberries but ran out of time.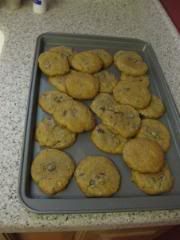 Funny outfit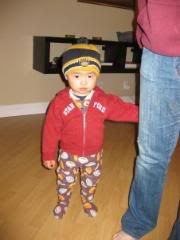 Smile!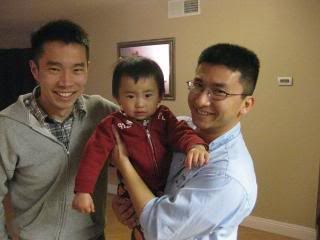 Everything turned out pretty tasty, and everyone was pretty satisfied. The sanma fish, shaking lamb, tapioca, and cookies were definitely hits. Long meal. Too many dishes (to wash). Back hurts. The End.