It's about time I made it out to Ubuntu. It was surprisingly very casual. Very friendly and relaxed atmosphere. Prices aren't through the roof (except for some of the wines.)
*Arigato, Ai for providing some of the photos!
Went with Andrew, Luigi, Ai (new friend from Tokyo), and Aaron.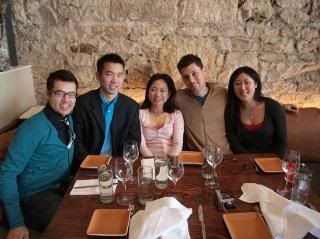 Lucky for us, there was enough of us to order the whole menu. Yep, the whole menu (minus 1 pizza, plus another cauliflower pot). The pictures speak for themselves...
Bites:
Marcona almonds
lavender sugar & sea salt
Castelvetrano olives
marinated in rapini pesto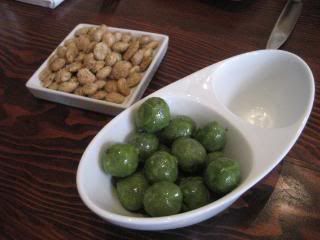 I personally loved the almonds although others found it had a bit too much lavender. Olives were awesome !
Chickpea fries w/ herbs
romesco sauce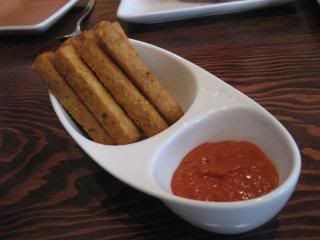 Luigi wasn't a big fan of this, but I loved these. I could eat these any day.
Artichoke, Miner's lettuce & Parmesan salad
miso "bagna cauda," black olive caramel, macadamia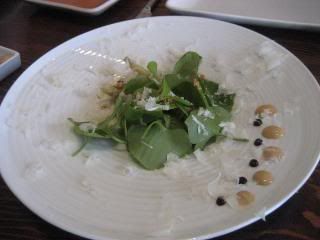 Simplicity, yet perfection.
Beet tartare with fork-crushed avocado
pistachio "soil," ruby grapefruit, red sorrel, java pepper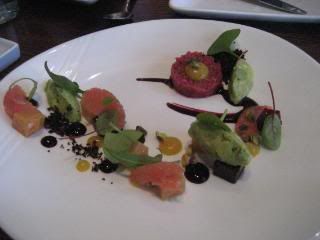 Bears, beets, Battlestar Galactica. Beauty. Bliss. Loved it.
Crunchy radishes with local chevre, nori, version 1.4
mustard-banyuls vinaigrette, hong vit, black salt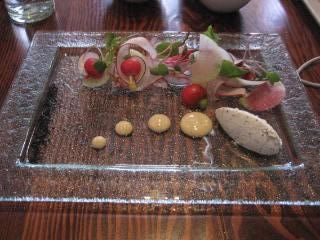 Really enjoyed the chevre with this salad.
Today's leaves & things
dressed lightly with regina olive oil, lemongrass, sea salt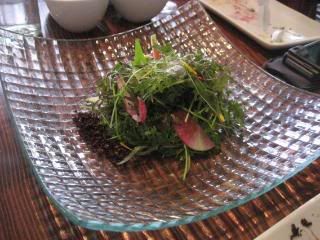 This was a good salad but we all agreed we could have done without and ordered something else.
Rustic rancho gordo 'yellow eye' bean soup
torn bread, rosemary, chili, braised black kale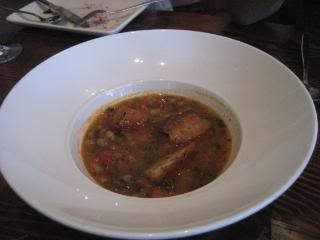 Hearty and absolutely full of flavor. We needed more delicious bread with this.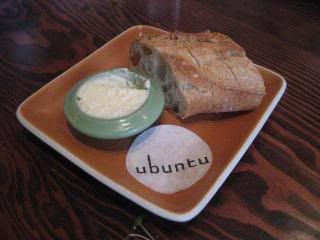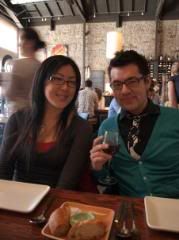 Homemade carrot gnochetti with mimolette and tarragon
carrot pulp "crumble" with almonds & warm spices, oxheart carrot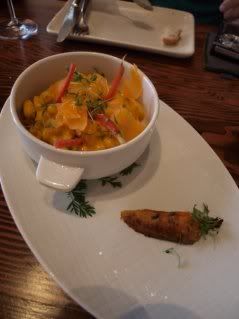 This was one of the less popular dishes amongst us. I wasn't a big fan of the texture. (Taste was there.)
Homemade fregola in a bordeaux spinach broth
Broccoli rabe, green garlic, leek ash, roast escarole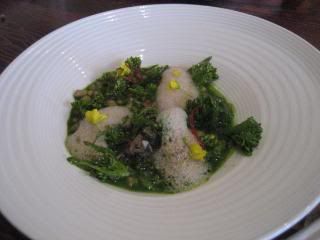 Local yellow corn grits, smoked with hickory
fried brussels sprouts with parsley & lemon, apple bbq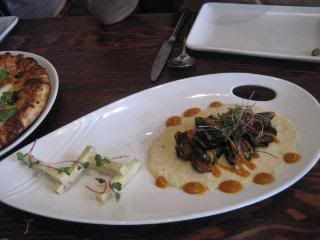 I have never been a huge fan of grits, but this was something unique. The taste of smoked hickory, the brussel sprouts, everything was a great combo.
Pizza margherita, winter style, with burrata
slow-cooked mustards, san marzano tomato, fava leaf pesto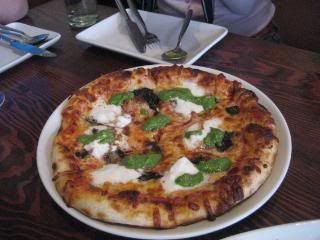 LOVED IT! Andrew and I were crazy about the pizza. Why? The crust perhaps, the whole combination? Who cares, it was good!
Cauliflower in a cast iron pot
roast-puree-raw, our vadouvan, coriander, brown butter toast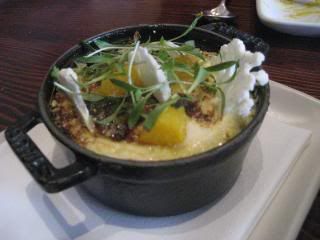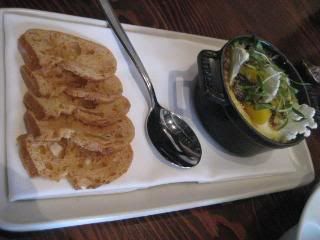 The famous cauliflower in a cast iron pot! Don't let the small size fool you - I found it to be quite rich. 1 or 2 bites of this was enough for me. Especially after the many courses we've already had. Delicious and I loved the variety of cooking/textures involved.
Vanilla bean cheesecake in a jar
sour cherries, hazelnut, almond teeccino crumble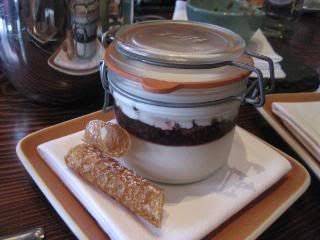 I love cheesecake. Especially cheesecake that is rich... but not TOO rich and dense. This was perfection. I could eat up the whole thing (ok... had I not tasted the entire menu previous to this). I LOVED it. No doubt why it is a signature dessert.
Local kiwi sorbet float with keiffer lime soda
coconut tapioca, cilantro, passion fruit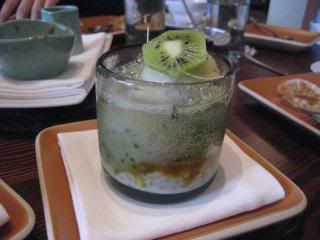 I find that however tasty desserts can be at nice restaurants or Michelin restaurants, I seldom remember them. But this is one of those desserts that stands out. A dessert to remember. Cilantro was a fabulous pairing with the rest of the dessert.
A bowl of frosted feuilletine
bananas, vanilla bean ice-cream, warm malted milk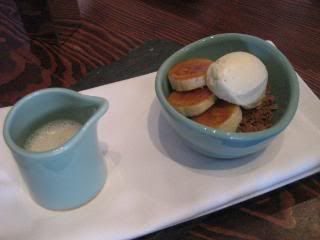 This was okay. I could pass on this in the future since Frosted Flakes satisfies me enough. =)
Vegan carrot cupcakes with pistachio, tiny candied carrots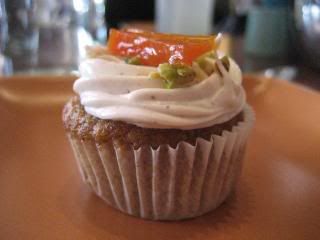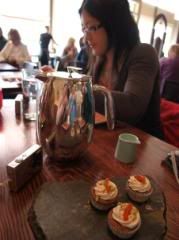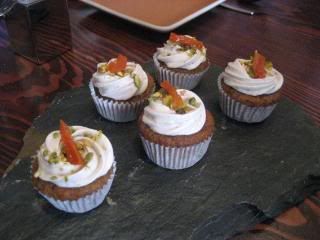 So it's a mini cupcake. A mini carrot cupcake. A PERFECT mini carrot cupcake. AND IT'S VEGAN! HOW??? WHY??? I don't get how it can be so tasty and moist. And that cream cheese frosting? Made from TOFU! I'm so confused. But happy. I wanted to buy a couple for Raf but they were all out. I guess we will have to come back here for this... and the cheesecake... and the pizza... and beets... artichokes, soup, etc etc etc.
Un express. Cool tasse !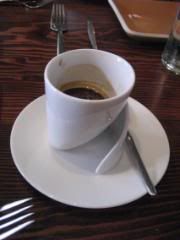 Blue Bottle Coffee - French press. And Andrew, well, being Andrew :) (The coffee was excellent)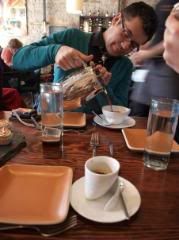 Ubuntu has definitely lived up to all the hype. Everything was executed extremely well. As a carnivore who is a bit skeptical of restaurants that don't serve meat, I left completely stuffed and completely satisfied. Perhaps because Chef Jeremy is not a vegetarian, he has figured out how to satiate the carnivore in us. I can't wait to go back. Next time, I will do yoga before hand.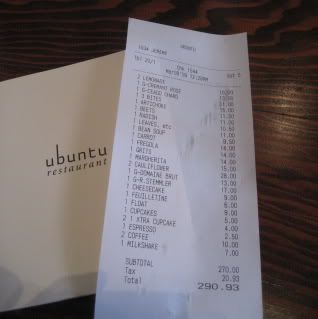 Ubuntu Restaurant and Yoga Studio
1140 Main St
Napa, CA‎
(707) 251-5656‎