Today for lunch, we had the pleasure of making reservations at Taillevent for lunch.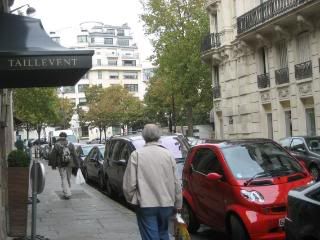 We decided on the 3-course prix-fixe menu for 70 euro. First, let me talk about the service. When we sat down, I couldn't hang my purse on the chair so I put it on the floor. I literally turned for one second, then I looked down and saw that they have pulled out a "chair" for my purse. A purse-chair. I didn't know they existed!
Then, as Andrew was taking his blazer off, THREE waiters came by to help him. A whole entourage. ahahhaha!
So, one of the waiters asked us where we all come from. Jacob is from Texas (but a hardcore democrat, lawyer, most likely to become a politician someday), Chris from Canada, and of course, me and Andrew from California. A couple of the other waiters were quite thrilled to hear that me and Andrew were from the SF Bay Area, and Chris from Canada. Jacob, on the other hand, got a bit more attention. When he asked a waiter where the restrooms were, the waiter said,
"Oh we don't have restrooms here. You see out this window? This bush? You can go there"
HAHAHAH! It was pretty funny because Jacob was really confused for a second. Then after, we laughed it off and the waiter showed Jacob where to go.
Ok, now let's talk about the food. We began our meal with delicious Gougères and an aperitif (champagne and rasberry). There was one waiter that would come by and stir my drink every 5 minutes when the fruit would settle on the bottom of the champagne glass.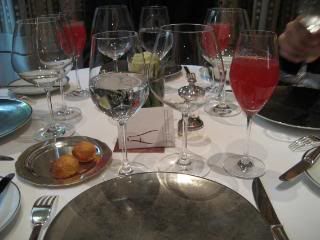 I ordered the lobster and scrambled eggs entrée. [Ok my American friends. An
entrée
is a
STARTER
, not a main course. They really need to change that in the US.]
The lobster was a little overcooked therefore, a little rubbery and hard to cut. But otherwise it was good.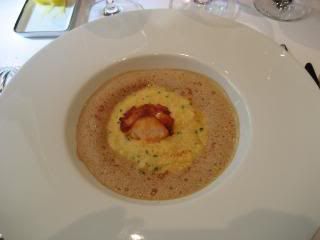 Everyone else ordered the foie ravioli which was
to die for.
It was so delicious! I wanted to order something else since everyone got the same entrée.
Next up for me was the Coquilles St. Jacques with an épinard purée. This was very delicious, and incredibly rich. I couldn't even finish all of it so I shared it with everyone else.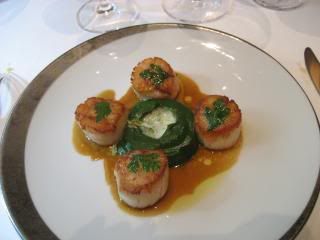 So in the middle of our meal, Andrew notices wet spots on his shirt. He was like "oh no! Is that water or something else?" It turned out to be water so it wasn't a big deal, but of course, the Taillevent entourage comes up with a teapot of hot water, and a couple cloths to help wipe down his shirt in case it was a food or wine stain of some sort. Oh man, never seen that before. It was quite entertaining.
After the Taillevent entourage, the cheese plate arrived. I was pretty full due to the richness of our previous dishes that I couldn't finish this either. Might I add that the bread and butter at Taillevent is SO GOOD! I think I overate on the bread servings.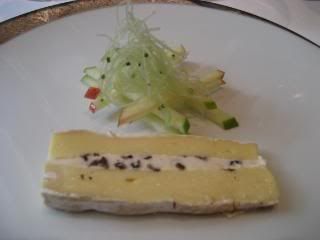 Of course, I had to order the chocolate dessert. This was a delight as well. I love how France embraces
chocolat noir.
There is no better chocolate!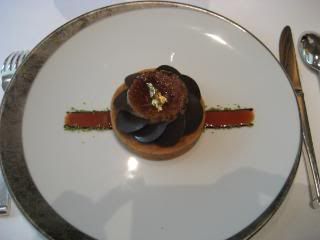 And the petits four to go with our cafés. A macaroon, tuile, dark chocolate bon-bon, rasberry in a pate sucrée mini-tarte, and a passion-fruit gelée that was amazing.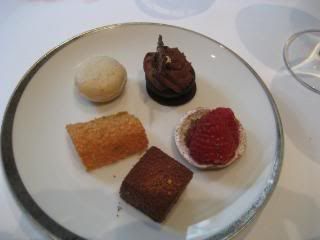 The service is outstanding, a bit overkill but in a good way. What I also enjoyed about this restaurant is the fact that the service was extremely professional and polite. They made you feel comfortable. There was no stuffiness or snobbery involved (like at Fleur de Lys - San Francisco). Another thing I would like to add is that Andrew, Chris, and Jacob had a budget of around 40Euro for a bottle of wine. They mentioned that to the sommelier and took him up on a recommendation he had. Turns out that the bottle of wine cost more than 40Euro but they just charged them for that amount. Really thoughtful gesture, IMO.
For me, it's hard to really judge a restaurant like this without having some sort of tasting menu. I feel like I just got a snippet of their potential. But overall, Taillevent was very good. I would definitely go back for a tasting menu if my wallet would let me. Aside from the slightly overcooked lobster, everything I tasted was outstanding. I just really wish I didn't dare to be different and ordered the foie ravioli. ;)
Do we look like cooks? Looking sharp after washing the oil and sweat off, and getting a bit dolled up. It was nice to dress up and remember that I was a girl ;)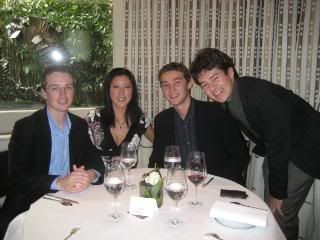 À Bientôt (j'espère), Taillevent !
Taillevent
Executive Chef: Alain Solivèrés
15, Rue Lamennais
75008 Paris, France
01 44 95 15 01