Andrew and I stumbled upon this Chinese of all Chinese restaurants while we were in the 13th. I mean everything about it screamed Chinese. The decor, the oversized banquet room. The karaoke stage. The TV screens. Tablecloths. Tanks of fish. Waiters uniforms. You name it. You see Chinese food isn't really great in Paris. At least compared to California, and of course, China. BUT based on the decor, we had to try this place. Now most of the Chinese people in Paris come from Wenzhou. At this restaurant, they had things like Peking duck, and dim sum (which is from the South), but why not try it anyway? I mean come on, the decor was catered for Chinese customers!
Hello, Chinese restaurant !
So we ended up ordering some typical fish stir-fried with ginger and green onions. And also Cha niu hu (yes, my ping-ying is way off), which is a flat, rice noodle with bean sprouts, onions, soy sauce and beef - typically a southern Chinese dish. All in all, not bad! Especially for Chinese food in Paris. Granted, it wasn't the
best
per se, BUT it was good enough to satisfy your Chinese food craving.
It was quite a nice discovery =).
La Chine Masséna
Centre Commercial Masséna 13
18, Avenue de Choisy
75013 PARIS
Tél : 01 45 83 98 88
After dinner, we met up at Canadia's place to pre-game. I think it was about 1am when we decided to leave his apartment. The metro closed already, so we were waiting for a taxi. This random guy asked us if we wanted a ride so we hopped into his car. Why not? I was with three guys, no biggie right? He decided to be a really nice guy. We gave him 20 Euro for driving us all the way to the 18th to meet up with Ede at a club called La Loco. A very Euro-club that played a lot of trance, but they did have a good 10 minutes of hip-hop and NELLY FERTADO. The crowd was a bit icky at first, but it got better towards the night.
Looking sharp
Hi Ede !
Afterwards, we went to a pub next door which turned out to be free and played better music. The entertainment was quite interesting as well.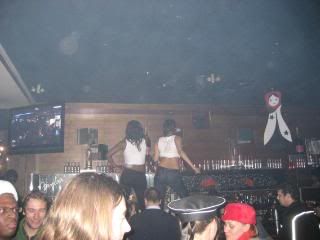 The night ended at 6am. SIX AM. I need to remind myself that I am older now and that I can't pull all night partying anymore. I was so tired the next day. Never again! HAHAHA