Today I began a little bit of prep for the
Gastronomie By the Seine
event. I helped
Sophie
a bit with her mise en place.
Here is her "cha-ye-dan" made with quail eggs. It was excellent ! Reminded me of mom's cha-ye-dan.
Afterwards, had a brief meeting for the Gastronomie By the Seine event.
Around 10pm, me, Julie, and Tristan had dinner at L'Ami Jean with Andrew since it was his last night in Paris.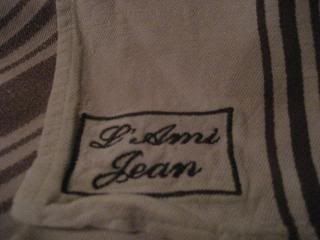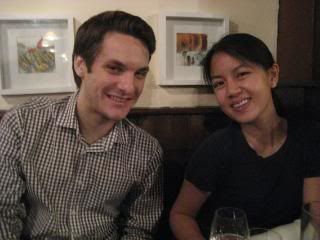 BOOOOOO !!!
What am I gonna do without Andrew?
Who is going to eat half my meals?!

Who is gonna go eat ramen with me ?! ... and Eric Kayser?!

Who's going to eat the mounds of financiers and brownies that I like to make but not eat!?!?!

Who am I gonna talk about food, chefs, restaurants for 19038490834 hours ?

AND THE OFFICE! We need to watch new Office episodes together... and order stuff from http://www.Alloresto.com. HAHA!

How am I gonna make fun of him for watching chic-flicks if he's in the US and the time difference is 8-hours?
Ok I can work that out. =)
Wonderful goat cheese spread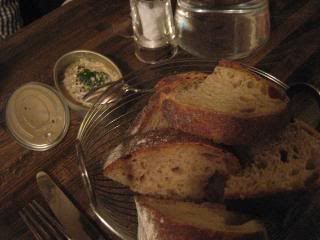 Andrew's entrée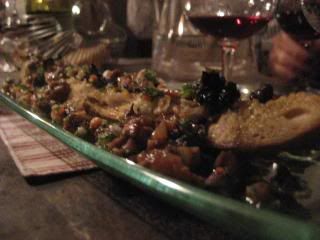 My entrée - f'in good shit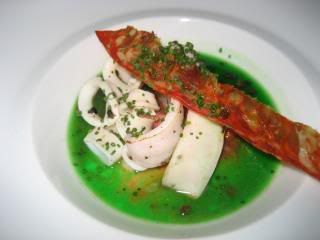 Sorry about the crappy lighting. Andrew's plat - Joues de lotte (monkfish cheeks)
My plat - they ran out of filet de porc so I got poitrine. It was really good but Andrew had to help me finish it of course. =)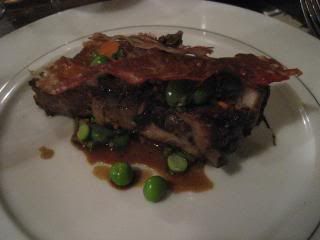 RICE PUDDING - this was seriously good shit. But the portions were ginormous. I mean seriously, it could have fed all four of us. And me, Andrew, and Tristan ordered it. What a shame ! I would have loved to take it home.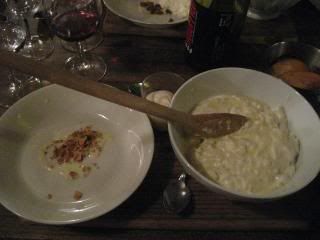 Madeleines - a bit dry but ok with the rice pudding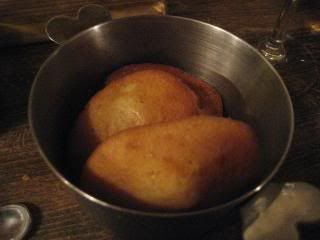 And our cool waiter
Dinner was fabulous.
Chez l'Ami Jean
27, rue Malar
75007, Paris
Tel 01-47-05-86-89
Love ya, Andrew ! He's going to be a famous food writer someday. (Took a photo - it lasts longer)