First day off ! At the restaurant, we are known as "
les filles
" (the girls). We always hear "
Salut, les filles! Bonjour, les filles
!" and during service, "
Les filles, deux qui passe ! On y va, les filles !"
It's actually quite cute. So today, "
les filles
" went to the beach.
Here is Thea looking glamourous hanging out on the terrace near the gardens at our restaurant.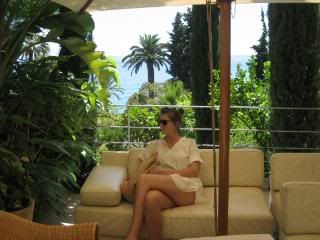 Sweet setup, huh? The restaurant is in a huge house on a hill with several levels. We all live on the first (French) floor.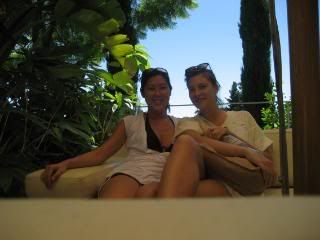 We ran into a few people from the restaurant by just walking around. Small town.
On the way to the beach.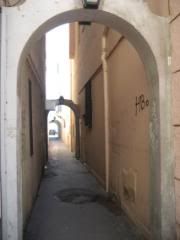 Les filles à la plage.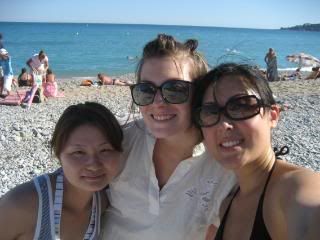 It has a really cute centre ville here.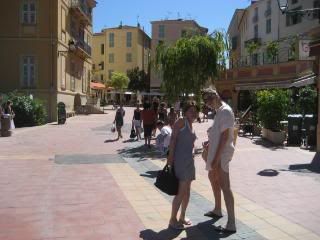 After having a deliciously cold coke and Orangina, we walked back home. Isn't it beautiful?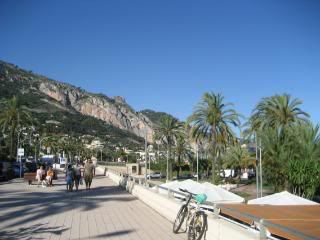 The boys were supposed to have a football (aka soccor) game today (they were talking about it for two weeks already). We stopped by the field where they were supposed to play but no one was in sight. By the time we got back, we saw the boys playing football on Playstation 2. They were still in the same position when we left for the beach... LOL I guess that was their way of playing le foot !
Unfortunately, yesterday was Denny's last day in the kitchen. He is moving back to Italy to work early tomorrow morning. Even though I only worked with him for a short time, he was a fun person to work and hang out with. He was like the 'charming class clown' of the kitchen. And it was entertaining to hear him speak French with his Italian accent, and at the same time mix the two languages together. Thea and I taught him to say "I like big butts" (from the song). Denny kept randomly saying it throughout the day... except it came out sorta like this: "
I lika beeg bahts
." HAH!
The whole kitchen sans Mikael (he was in Spain for a pastry event) went across the street to an Italian restaurant to wish him Bon Voyage. I've gotta say it is refreshing to be in this kind of restaurant atmosphere where people hangout and are genuinely friendly. I also really enjoy working with people from different cultures. I have hardly mastered understanding native French speakers so it makes it quite challenging trying to communicate in French since most of us have accents. But that is what makes it all the more interesting. Anyway, it was cool to sit down with chef and his wife and just shoot the shit.
Denny - tu sera manquer !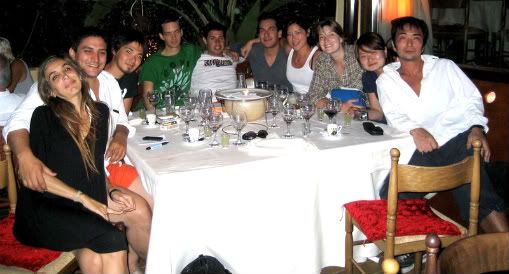 (Chef (Argentina) and his femme, Dani, Masa (garde manger, Japan), Davide (Sous-chef, France), Mateus (Fish, Argentina), Denny (Garde manger, Italy), me, Thea (CA), Chiho (Meat, Japan), Arai (Meat, Japan)